Introduction to AI Streaming Seminar
"Introduction to Artificial Intelligence Streaming" merupakan seminar yang diadakan oleh School Of Computer Science Binus University, pada hari Senin, 5 Maret 2012. Peserta seminar ini pada umumnya merupakan mahasiswa semester 4 (empat) jurusan Teknik Informatika yang akan memilih peminatan, selain itu ada juga beberapa peserta yang berasal dari semester 2 (dua) dan 6 (enam). Sekitar 150 mahasiswa/i yang ikut serta di dalam seminar ini. Seminar ini dibawakan oleh dua pembicara yang luar biasa bagi saya, yaitu Bapak Dr. Widodo Budiharto, S.Si., M.Kom dan Bapak Afan Galih Salman, S.T., M.Si. Keduanya merupakan ahli dalam bidang Artificial Intelligence (AI).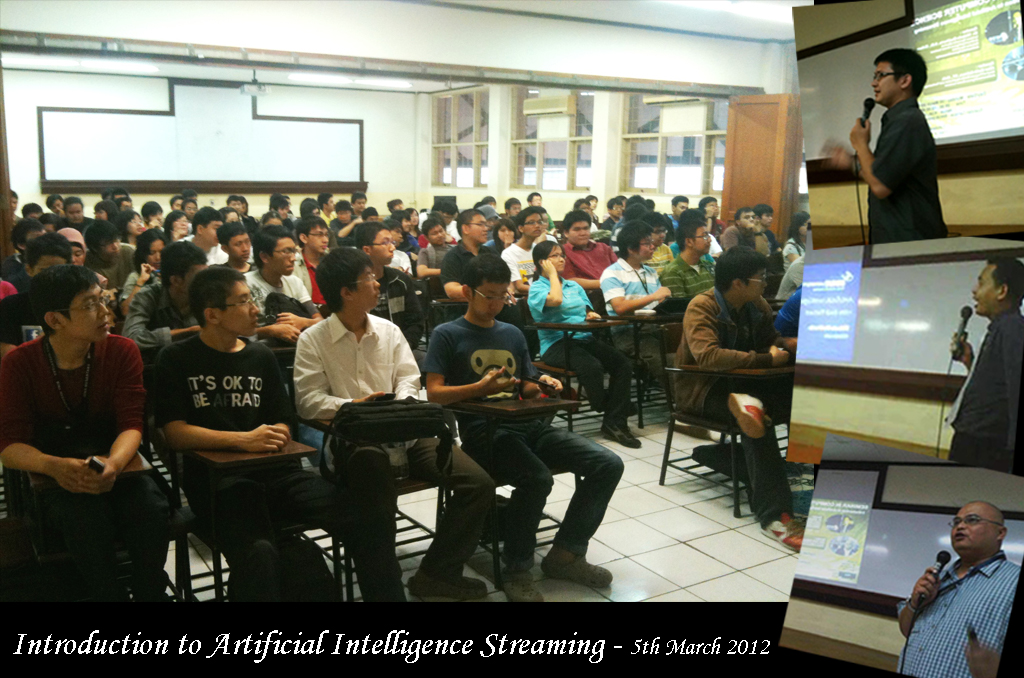 Acara ini dibuka oleh Bapak Derwin Suhartono, S.Kom., M.TI. selaku koordinator untuk rumpun ilmu Intelligent System. Lalu acara masuk ke topik utama yang dibawakan oleh Bp. Afan, Head of Program Mobile Application and Technology, yang juga merupakan Artificial Intelligence Senior Lecturer. Beliau membawakan topik seminar ini dengan penjelasan secara umum tentang AI. Yang menarik dari Bp. Afan ialah beliau menyampaikan materi dengan menyisipkan diagram-diagram yang sangat membantu saya dan teman-teman untuk memahami materi. Menurut beliau, menggunakan AI dengan salah satu domain ilmu yaitu Sistem Pakar, segala keahlian dari pakar dapat di-capture dalam suatu aplikasi yang sangat efesien. Selain itu dengan AI diharapkan setiap pengambilan keputusan dapat lebih tepat.
Setelah selesai Bp. Afan menyampaikan materinya, dilanjutkan oleh pembicara berikutnya. Bp. Dr. Widodo Budiharto, S.Si., M.Kom.. Beliau merupakan seorang Lecturer Specialist (Doctoral), Robotics Specialist dan Artificial Intelligence Researcher. Beliau menjelaskan secara lebih mendalam mengenai AI. Banyak penelitian yang telah beliau lakukan sampai saat ini. Hal yang menarik, beliau mengatakan bahwa pada tahun 2040 diprediksi bahwa robot akan lebih banyak membantu pekerjaan manusia. Untuk saat ini sebagai contoh nyata, pembuangan sampah di Italia telah dilakukan oleh robot. Selain itu, ada istilah Computer Vision yang diterapkan dalam aplikasi dengan kamera sebagai sensor. Ini merupakan salah satu domain AI yang terus berkembang dan sangat berpotensi besar untuk tahun-tahun ke depan. Di akhir penjelasannya, Bapak Widodo menjabarkan hal-hal yang penting untuk sukses dalam AI, yaitu:
Memiliki ide-ide inovatif untuk mengembangkan AI
Menguasai pemrograman AI menggunakan coding murni (Java / C++ / C#)
Keterampilan dalam pemrograman Computer Vision dan terintegrasi dengan software database
Keterampilan di Android/Blackberry pemrograman
Memahami XML
Setelah mendengarkan penjelasan dari kedua pembicara, ada sebuah keraguan dari saya dan mungkin juga dirasakan oleh teman-teman yang lain, mengenai peluang kerja AI di Indonesia. Banyak orang mengatakan bahwa peluang kerja AI di Indonesia sangatlah kecil dan berbanding terbalik dengan di luar negeri. Hal ini membuat saya tertarik untuk mengajukan sebuah pertanyaan. Apakah AI hanya cocok untuk kalangan atas atau orang yang berkemampuan ekonomi yang tinggi? Pertanyaan ini dijawab oleh Bp. Widodo dengan sangat baik. Peluang kerja AI di Indonesia terbuka luas, seperti Dalam bidang manajemen : Chief Technology Officer, Chief Information Officer, IT Consultant; bidang Intelligence System Development : Intelligence System  Developer, Chief Technology Officer, Chief Information Officer, IT Consultant; dan dalam Scientist : Lecturer / Trainer, Researcher. Beliau menjelaskan bahwa persaingan bisnis saat ini sangat ketat dan banyak software dijual dengan harga murah. Banyak orang berpendapat bahwa di saat kita mempunyai ide yang cemerlang, hambatan akan terjadi saat kita ingin mengimplementasikannya, misal hambatan dari segi ekonomi. Tetapi menurut beliau, hal yang terpenting ialah bagaimana cara kita memasukkan kecerdasan dari AI dalam setiap aplikasi kita. Banyak open source yang bisa kita manfaatkan sehingga modal yang kita keluarkan hanya sedikit, tetapi kita dapat menjualnya  dengan harga yang tinggi ,bahkan sepuluh kali lipat dari modal. Hal ini sangat menarik terutama karena perkembang AI di dunia semakin berkembang pesat. Sebagai contoh, Jepang dengan produk Air Conditioner (AC) yang memanfaatkan metode neuro fuzzy sangat laku di pasaran.
Jadi,  secara keseluruhan acara seminar ini sangat membantu saya. Semua materi dijelaskan dengan sangat baik dan menarik oleh kedua pembicara yang luar biasa. Pemikiran saya tentang AI menjadi semakin terbuka dan jelas, sehingga saya sangat menyarankan untuk teman-teman lain mengikuti seminar-seminar seperti ini.