Venue
VENUE INFORMATION
The conference will be held on August, 24-26, 2015 at Bina Nusantara University, Anggrek Campus, Jakarta-Indonesia.
How to get to the venue?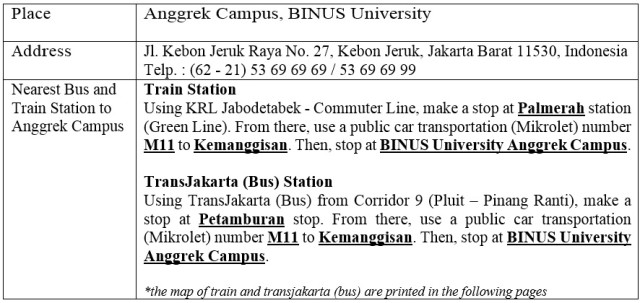 Train Station Map (http://www.krl.co.id/peta-rute-loopline.html)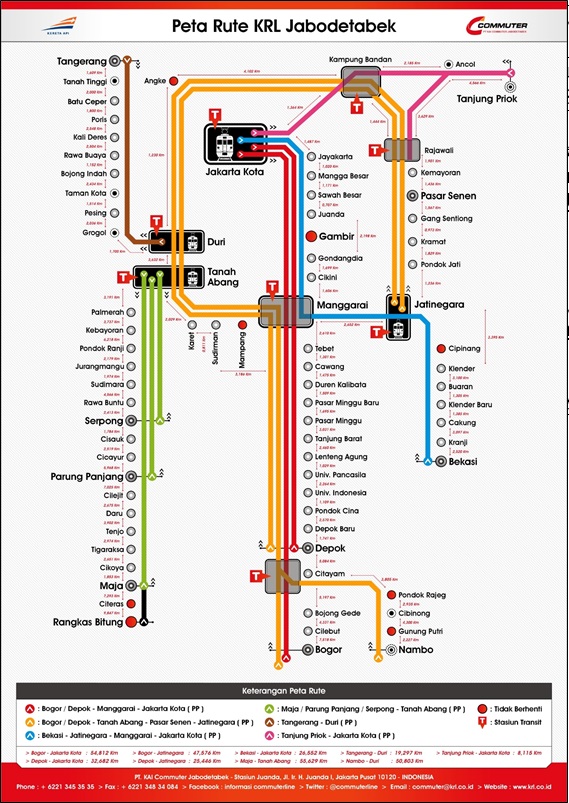 TransJakarta (Bus) Station Map (http://www.transjakarta.co.id/peta_full.php)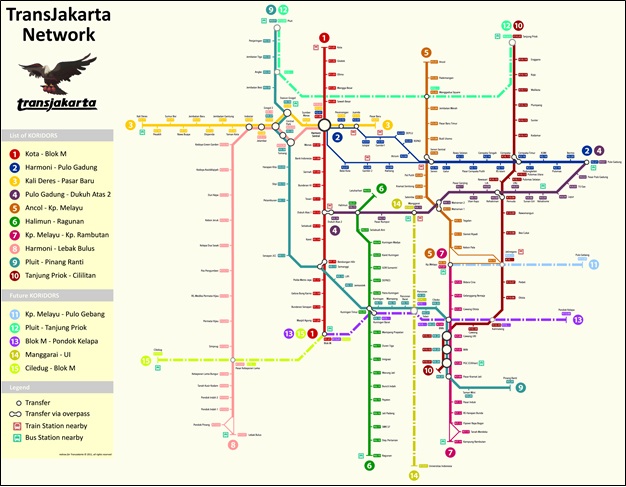 ACCOMMODATION
A list of nearby hotels is given below:
Fairmont Jakarta Hotel (5 star hotel, 1.47 km from the conference venue)
Ibis Jakarta Slipi Hotel (3 star hotel, 1.98 km from the conference venue)
Mega Anggrek Hotel (3 star hotel, 2.13 km from the conference venue)
The Bellezza Suites (4 star hotel, 2.19 km from the conference venue)
Menara Peninsula Hotel (4 star hotel, 2.25 km from the conference venue)
TOUR
The destination of our tour will be held on August 26, 2015:
National Monument of Indonesia (MONAS), Jakarta
The National Monument (Indonesian: Monumen Nasional, abbreviated Monas) is a 132m (433ft) tower in the centre of Merdeka Square, Central Jakarta, symbolizing the fight for Indonesia. It is the national monument of the Republic of Indonesia, built to commemorate the struggle for Indonesian independence.
History:
After the Indonesian government returned to Jakarta from Yogyakarta in 1950 following the Dutch recognition of Indonesian independence, President Sukarno began to contemplate the construction of a national monument comparable to the Eiffel Tower on the square in front of the Presidential Palace. On 17 August 1954, a National Monument Committee was established and a design competition was held in 1955. This attracted 51 entries, but only one design, by Frederich Silaban, met any of the criteria determined by the committee, which included reflecting the character of Indonesia in a building capable of lasting for centuries. A repeat competition was held in 1960, but once again, none of the 136 entries met the criteria. The chairman of the jury team then asked Silaban to show his design to Sukarno. However, Sukarno did not like the design as he wanted the monument to be in the form of a linga and yoni. Silaban was asked to design such a monument, but his design was for a monument so large that it would have been unaffordable given the economic conditions at the time. Silaban refused to design a smaller monument, suggesting that construction be delayed until the Indonesian economy improved. Sukarno then asked the architect R.M. Soedarsono to continue with the design. Soedarsono incorporated the numbers 17, 8 and 45, representing the 17 August 1945 Proclamation of Indonesian Independence, in the dimensions of the monument.


Jakarta Old Town Area
Kota (Indonesian: Kota Tua Jakarta), is a small area in Jakarta, Indonesia. It is also known as Old Jakarta, and Old Batavia (Dutch: Oud Batavia). It spans 1.3 square kilometres of North Jakarta and West Jakarta (Kelurahan Pinangsia, Taman Sari and Kelurahan Roa Malaka, Tambora). Kota is Indonesian word for "city", it was the reminiscent of the vicinity during colonial times in the 16th century that the city was only within Batavia walled compound (today Kota), while the surrounding areas was only kampung (villages), orchards, and ricefields. The largely Chinese downtown area of Glodok is a central part of Kota.
Dubbed "The Jewel of Asia" and "Queen of the East" in the 16th century by European sailors, Old Jakarta ? or Batavia, as it was named by the Dutch ? was once a center of commerce for the whole continent due to its strategic location and abundant resources.
History:
In 1526, Fatahillah, sent by Sultanate of Demak, invaded Hindu Pajajaran's port of Sunda Kelapa, after which he renamed it into Jayakarta. This town was only 15 hectare in size and had a typical Javanese harbour lay-out. In 1619 the VOC destroyed Jayakarta under the command of Jan Pieterszoon Coen. A year later the VOC built a new town named "Batavia" to honor Batavieren, the Dutch ancestors. This city was centered around the east bank of the Ciliwung river, around present day Fatahillah Square.
Inhabitants of Batavia are called "Batavianen", later known as "Betawi" people, the creole ethnic, the descendants of mixed various ethnicities that inhabited Batavia.
In 1635 the city expanded towards the west banks of Ciliwung, on the ruins of former Jayakarta. The city was designed in European Dutch style complete with a fortress (Kasteel Batavia), city wall, and canals. The city was arranged in several blocks separated by canals.[1] The city of Batavia was completed in 1650. It became the headquarters of the VOC in the East Indies. The canals were filled up due to outbreaks of tropical diseases within the city walls because of poor sanitation. The city began to expand further south as epidemics in 1835 and 1870 forced more and more people to move out of the cramped city, to the Weltevreden area (now the area surrounding Merdeka Square). The city later became the administrative center of the Dutch East Indies. In 1942 during the Japanese occupation, Batavia was renamed Jakarta, and still serves as the capital city of Indonesia.
In 1972, the Governor of Jakarta, Ali Sadikin, issued a decree that officially made the Jakarta Kota area into a heritage site. The governor's decision was necessary in order to preserve the city's architectural roots ? or at least what was left of it.
Despite the Governor's Decree, the old town remains neglected. Even though the majority was pleased just by the issuing of the decree, not enough was being done to protect and conserve the legacy from the Dutch colonial era