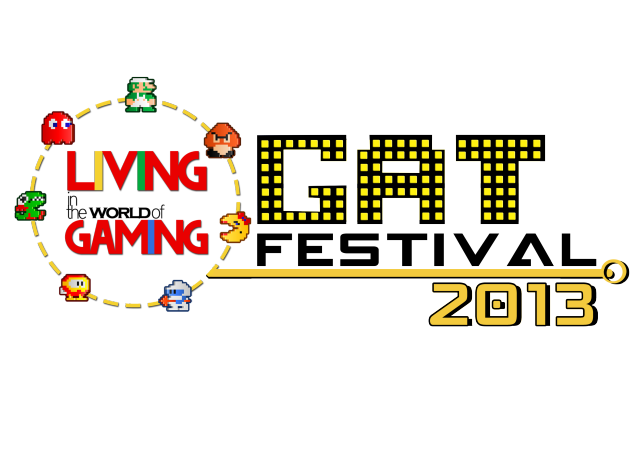 Game Application and Technology (GAT) Festival adalah IT expo dan perlombaan membuat game yang diselenggarakan oleh BINUS University untuk para siswa Sekolah Menengah Atas/Sederajat di Indonesia. Lomba ini bertujuan untuk meningkatkan daya nalar dan kreatifitas para siswa SMA/SMK. Diharapkan lomba ini dapat meningkatkan motivasi dan mengembangkan bakat dan minat masyarakat umum serta siswa SMA/SMK dalam bidang teknologi informasi sedini mungkin.
Mengingat di Indonesia ini, teknologi informasi sedang berkembang dengan cukup pesat di segala bidang, baik game industri maupun bidang lainnya. Tingkat kompetisi dan persaingan di industri semakin ketat dan berkembang, akan tetapi, employer yang bekerja atas nama sebuah perusahaan atau developer game di Indonesia, belum banyak adanya. Untuk itu, perlu dikembangkan potensi dari siswa-siswi yang memiliki minat, ketertarikan dan keahlian khusus di bidang game.
Mengetahui hal itu, Program Games Application and Technology, School of Computer Science BINUS UNIVERSITY berencana menyelenggarakan acara kompetisi games yang masuk dalam kegiatan tahunan Bee Festival.
Binus Games Competition kali ini terdiri dari berbagai lomba, yakni: Game Development Competition, dan DOTA2 Competition. Kompetisi game tersebut diharapkan dapat melatih imajinasi, logika, kecepatan berfikir, keterampilan mengetik, teknik, kemampuan mendesain suatu game, kemampuan membangun sebuah game, dan ketepatan dalam mengambil keputusan. Terlihat sekali bahwa game dapat memberikan pengaruh yang sangat baik bagi mental maupun fisik seseorang apabila dimainkan dalam kadar yang tepat. Para pribadi siswa-siswi yang imajiner juga dapat ditunjukkan disini dan mereka dapat merasakan benefit dari potensi yang mereka miliki.
Bee Festival ini merupakan kerjasama antara Program Games Application and Technology dengan School of Computer Science BINUS UNIVERSITY, dimana masing-masing bagian terlibat dalam kepanitiaan baik dalam persiapan dan pelaksanaan.
Tujuan Pelaksanaan Kegiatan ini :
Membantu mempromosikan BINUS UNIVERSITY, khususnya jurusan Games Application and Technology, di kalangan Sekolah Menengah Umum dan Sekolah Menengah Kejuruan di Indonesia.
Meningkatkan serta mengembangkan motivasi, kreatifitas, keterampilan dan minat masyarakat umum dan siswa SMU/SMK dalam bidang game dan teknologi informasi.
Lebih mengenalkan BINUS UNIVERSITY sebagai universitas yang terus meningkatkan penerapan dan perkembangan teknologi informasi dan industri game di Indonesia, seperti dengan membuka Program Games Application and Technology
Mendapatkan calon siswa-siswi yang telah terlatih dengan baik, untuk dapat ikut serta dalam pertandingan sejenis di berbagai tempat dan tingkat, bahkan tingkat Internasional
Memunculkan bibit-bibit baru untuk memajukan teknologi informasi di Indonesia, khususnya dalam bidang game
Memperkenalkan kepada siswa-siswi, khalayak ramai, dan para orang tua, bahwa game memberikan banyak dampak positif apabila dimainkan dengan seimbang, dan bahwa, tidak hanya memainkan, tetapi mereka juga dapat menciptakan/membuat game.
Dalam lomba-lomba dan acara yang akan diadakan, masing-masing juga mempunyai tujuan sebagai berikut :
Untuk meningkatkan kreatifitas anak bangsa dalam membangun sebuah game, mencari potensi-potensi yang bisa berkarya bagi game developer Indonesia, serta diharapkan pergerakan game developer di Indonesia akan semakin berkembang
Untuk melatih kemampuan berkompetisi siswa/siswi dan mahasiswa, dan juga melatih kerjasama serta kekompakan untuk setiap tim dalam memainkan ini untuk setiap tim.
Untuk memperkenalkan dan membangkitkan industri game di Indonesia dengan ilmu, pengalaman, opini dan cerita, serta mempererat relasi sesama industri game. Siswa/siswi dan khalayak ramai juga dapat mengetahui tentang game yang terbaru, serta memiliki kesempatan bertemu dengan para pelaku dalam industri game.