Grand Launching Puzzle Kingdom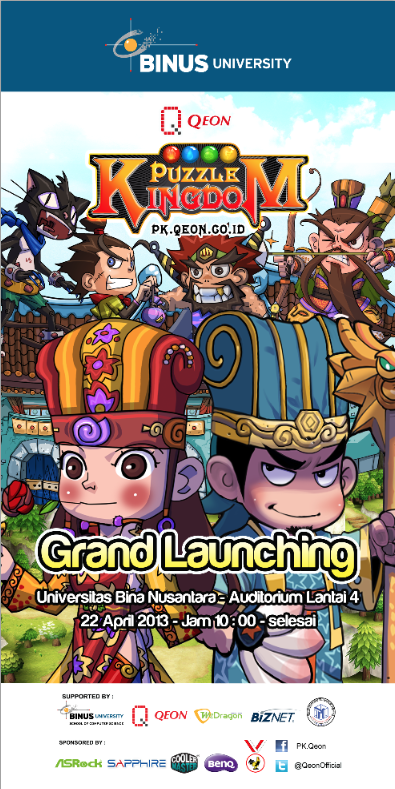 Bersama ini, kami mengundang untuk mengikuti acara Grand Launching Puzzle Kingdom, game online ketiga dari PT. Qeon Interactive, yang disertai dengan Penganugerahan Rekor terbaru MURI 2013 untuk Peluncuran Game Online Secara Serentak di Kota Terbanyak.
Puzzle Kingdom adalah web based online game yang menggabungkan genre "puzzle" dan "strategy", serta dapat dimainkan melalui perangkat multiplatform, seperti Android Tablet (smartphone) ataupun Client Application / Website Browser (komputer).
Adapun acara tersebut akan diselenggarakan pada:
Hari/Tanggal : Senin, 22 April 2013 Pukul 10.00 – selesai
Tempat : Lantai 4 Auditorium Kampus Anggrek, Universitas Bina Nusantara
Jl. Kebon Jeruk Raya No.27, Kebon Jeruk, Jakarta Barat 11530
Untuk mengikuti event ini, silahkan melakukan pendaftaran secara online pada https://socs.binus.ac.id/grand-launching-puzzle-kingdom/registration/ paling lambat hari Jumat, 19 April 2013
Setelah selesai melakukan proses registrasi dimohon untuk verifikasi account, kemudian login untuk melakukan edit profile.
Dengan mengikuti event ini akan mendapatkan :
Kesempatan untuk memenangkan Lucky Draw PC Tablet
Makan Siang (all you can eat)
Sharing knowledge dari Game Expert
Khusus Binusian (e-certificate)
AGENDA ACARA
Penandatangan Perjanjian Kerjasama antara GAT (Game Application & Technology) Universitas Bina Nusantara dengan PT. Qeon Interactive.
Presentasi dan Peresmian game online Puzzle Kingdom untuk wilayah Indonesia.
Penyerahan Piagam MURI oleh Bapak Jaya Suprana untuk PT. Qeon Interactive dengan tema "Peluncuran Game Online Secara Serentak di Kota Terbanyak".
Talkshow "Karir di Industri Game Online" oleh Mr. Sean Kim, Business Adviser PT. Qeon Interactive dan Bapak Fredy Purnomo, Head of School of Computer Science Universitas Bina Nusantara.