Experience of Having a Student Exchange to Korea
Below is an article that written by Frieda Ngaharjo ( student of IT – SoCS ) about her experience having a student exchange to Korea.
"안녕하세요 (Annyeong haseyo)!" was the word I often uttered as I began each day waking up in Incheon, South Korea. My name is Frieda Ngaharjo, a BINUS student majoring in Computer Science. Ever since my first year in BINUS, I was informed of many opportunities to study abroad by the International Office located at Syahdan campus. Then I gathered my courage, and registered myself to go abroad for an exchange program. After several screenings and interview, I was listed as a candidate to spend one semester in one of the most acclaimed private university in South Korea (from hereafter referred to as Korea), INHA University.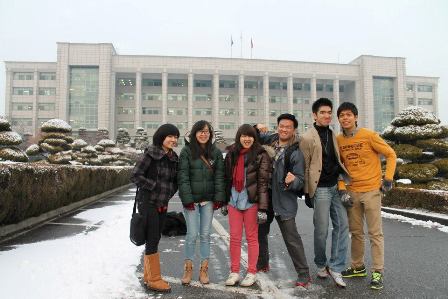 "Why Korea?" Many Koreans I came to know ask me this same question. These days, Korean culture has spread to other regions of the world including Indonesia; referenced by the term Korean Wave, or 한류 (Hallyu). Korean music, drama, language, and cuisine were rapidly introduced to the rest of the world, turning into a global phenomenon. The time when I was in Incheon, there were many concerts by K-pop artists, events and festivals held to celebrate the widespread Korean culture. Some are even free for foreigners! We could watch Korea's most famous artists, such as PSY, Sistar, Girls' Generation, Super Junior, Infinite, and so many more. Undeniably speaking, Korean Wave has become a major drive for Korea's economy. But that's not the only reason I chose Korea as my destination.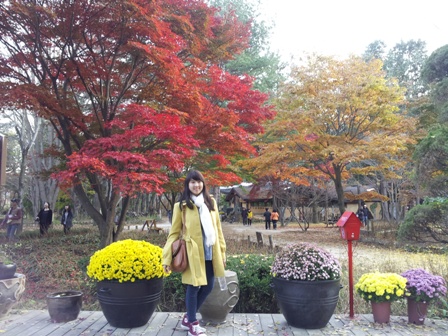 60 years ago, Korea is still one of Asia's poorest nations. Forced into annexation by the Imperial Japan in 1910, Korea suffered decades of repression, resources and labor extortion. I was taught in class, that Korean spirit could not be extinguished by anything. At the end of Japanese occupation of Korea following Japan's defeat in World War II in 1945, Korea was left on its own to manage. At the start of Park Chung-hee's administration, the third president of Korea signaled a start for Korea's rapid economic development. As for now, Korea's export-driven economy is within the world's 15 largest. I strongly feel that Indonesia, as a country also formerly occupied by past colonialism, could learn a lot from Korea's history. Their ever burning spirit to get back up from poverty and famine, a longing sense of patriotism, as well as sense of unity, have fueled the growth of their nation.
As I stepped on the pavement of Seoul, Korea's special city, I can feel the air changing around me. A bustling city, full with locals chattering in Korean, and people all dressed up nicely regardless of the harsh weather. You will sometimes spot foreigners blending in the country, referred by the locals as "외국인" or "aliens". It is interesting how Koreans are very conscious of the foreigners, and most of the time, when you try to speak to them in English, they will decline because they are too shy to respond. Hence, it is a great idea to learn some basic Korean phrases and expressions before coming there; even better if you can read Hangul, the Korean alphabet. Koreans love it when you honor their tradition, culture, and language.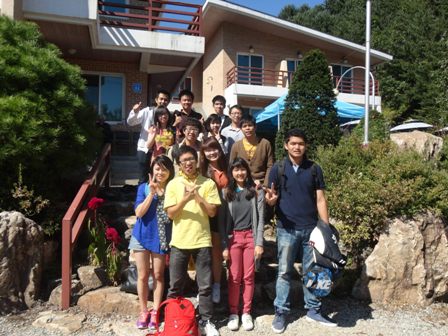 Another interesting part of Korea is how its people put great emphasis on seniority. You are bound to respect your elders, so it is a common sight that students bow very politely when they pass the professors. I have some Korean friends older than me, and they like to treat me a lot. Even if I declined, they insisted to pay because they said it was their responsibility as my seniors. Later, I can give back to the society when I have my own juniors, they said.
Most of Koreans love drinking. I can safely say that soju, Korean alcoholic beverage costs around the same as mineral water. People above the legal age drink soju on a regular basis; apart from the need to warm their bodies in the cold winter, they usually drink it with others to deepen bonds between them. There is an unspoken rule for politeness: we have to hold our glass with both of our hands when our seniors pour the drink for us.
Studying in Korea, I could see that Korean students are very hardworking and determined. Many could spend hours studying in the library, and they read many books related to the subject. I'd say they were very individualistic, because they all compete with each other to be the best. In that kind of environment, we could either succumb to the competition, or become even more determined to give our all. After all, the learning environment in Korean universities is fully facilitated by the great collection of reference books in the library, as well as supportive lecturers that are ready to help you whenever you have some inquiries.
Joining an exchange program gave me the opportunity to meet with a lot of people from around the world. I attended classes with students from Singapore, Brunei Darussalam, China, Japan, France, Austria, Finland, and many more that I could not specify here. I even shared a room with nice ladies from Sweden in the dormitory, and form deep bonds with Indonesian friends that I met there. It is truly a priceless opportunity to experience Korean and foreign culture, learn how to adapt with a changing environment, and socialize with people from different countries. The memories that I made in Korea will forever be carved in my heart, and I will cherish it as I move forward in the future.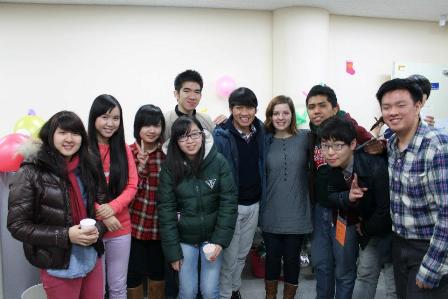 Hereby, I encourage you to take on the opportunity if you have the same chance that I had in the past, because you definitely will not regret it. Each thing you learn abroad is bound to form you into having a better understanding of the global challenges ahead of our generation. Seize the opportunity, and don't wait because it might not be around forever!
– Frieda Ngaharjo