Serah Terima Sponsorship dari French Embasssy ke School of Computer Science BINUS
Pada hari Jumat, 21 Februari 2014, tim dari School of Computer Science (SoCS) BINUS University bertandang ke kantor Kedutaan Besar Prancis (French Embassy) di Indonesia yang bertempat di Menara BCA Lantai 40, Thamrin, Jakarta Pusat. Pertemuan ini adalah dalam rangka membahas kerjasama antara French Embassy dengan BINUS University sekaligus penyerahan sponsorship dari French Embassy kepada salah satu dosen tetap SoCS, yaitu Bapak Derwin Suhartono yang akan mengikuti konferensi internasional ICAART2014 yang diadakan di Angers, France pada tanggal 6 hingga 8 Maret 2014.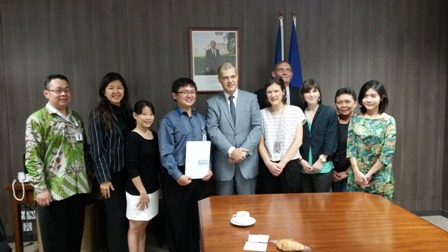 ICAART adalah salah satu acara konferensi internasional yang diadakan sebagai tempat berkumpulnya para peneliti di bidang Artificial Intelligence untuk saling bertukar pikiran mengenai penelitian yang sedang dilakukan.
Pada ICAART yang ke-6 pada tahun 2014 ini, Bpk Derwin Suhartono akan mempresentasikan papernya yang dikerjakan secara bersama-sama dengan mahasiswa yang berjudul "Predictive Text System for Bahasa With Frequency, N-gram, Probability Table and Syntactic Using Grammar".
Pertemuan berlangsung selama 1 jam dengan dihadiri oleh Ms. Lily Manoharan, Ibu Theodora Subyantoro, Bpk Fredy Purnomo, Ibu Yen Lina Prasetio, dan Bpk Derwin Suhartono yang mewakili pihak BINUS serta dari pihak Kedubes Prancis yang diwakili oleh Dr. Bertrand de Hartingh, Mr. Joel Le Bail, Ms. Marion Noirot, Ms. Flora Stienne, Ibu Arie Soedibjo, dan Ms. Apreita Putri. Banyak peluang kerjasama yang bisa dibangun diantaranya adalah studi lanjut S1, S2, dan S3 ke Perancis, pertukaran pelajar ke Perancis, dan pengiriman dosen-dosen untuk bereksplorasi lebih jauh dalam bidang keilmuan masing-masing.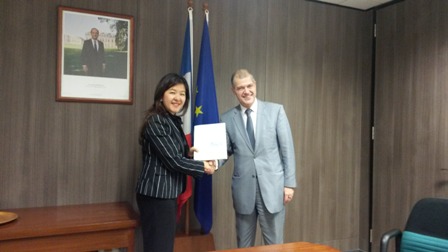 Sponsorship dari French Embassy kepada Bpk  Derwin Suhartono adalah berupa tiket pesawat pulang pergi dari Jakarta-Paris, visa gratis, dan tiket kereta pulang pergi dari Paris-Angers.
Semoga dengan adanya kerjasama ini, dapat memacu seluruh dosen dan mahasiswa BINUS University untuk mengembangkan ilmunya dengan studi ke Perancis. Terima kasih kepada pihak French Embassy yang ikut berperan serta dalam mengembangkan kemajuan pendidikan di Indonesia.