BINUS Berhasil Juara 2 dan 3 dalam Technocorner 2015
Pada tanggal 14-15 Maret 2015, mahasiswa School of Computer Science kembali bertandang ke Universitas Gadjah Mada, Yogyakarta untuk mengikuti kompetisi TechnoCorner 2015. Pada tahun sebelumnya, dengan mengirimkan 1 tim, mahasiswa SoCS juga berhasil memperoleh juara ke-3 dengan aplikasi LINDA.
Tahun ini, mahasiswa SoCS lolos ke semifinal yang terdiri dari 10 tim, 2 diantaranya adalah mahasiswa SoCS. Erinna Hardianto Putri, Diah Rostanti Fadilah, dan Ivan dengan aplikasinya THUMBS (Thematic Development as Unity Measurement Between Sentences) serta Martin Sendra, Rudy Sutrisno, dan Josep Harianata dengan aplikasi Essay Scoring ELSA (Enhancement of Latent Semantic Analysis). Mereka berangkat ke Yogyakarta didampingi oleh Bp. Derwin Suhartono. Jenis perlombaan yang diikuti oleh mereka adalah Software Development Competition (SDC).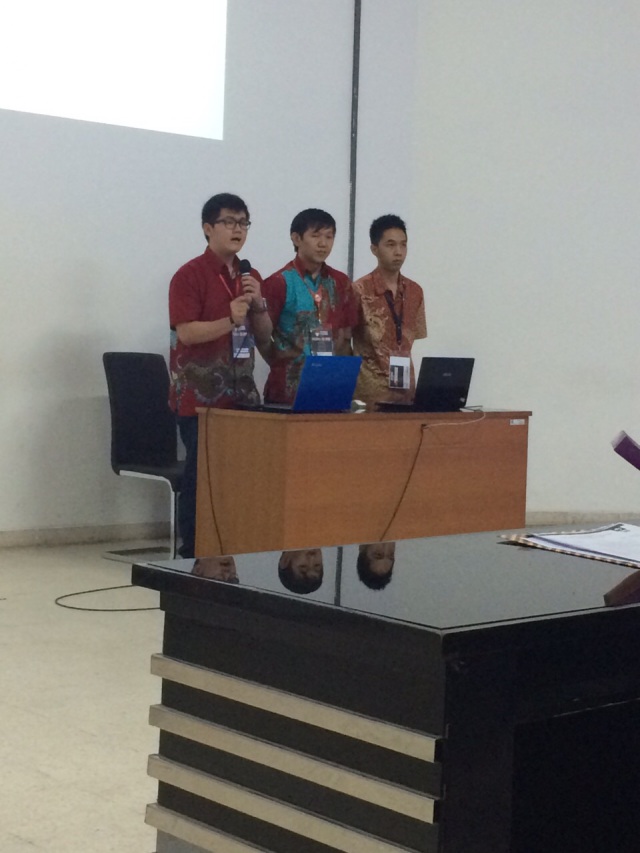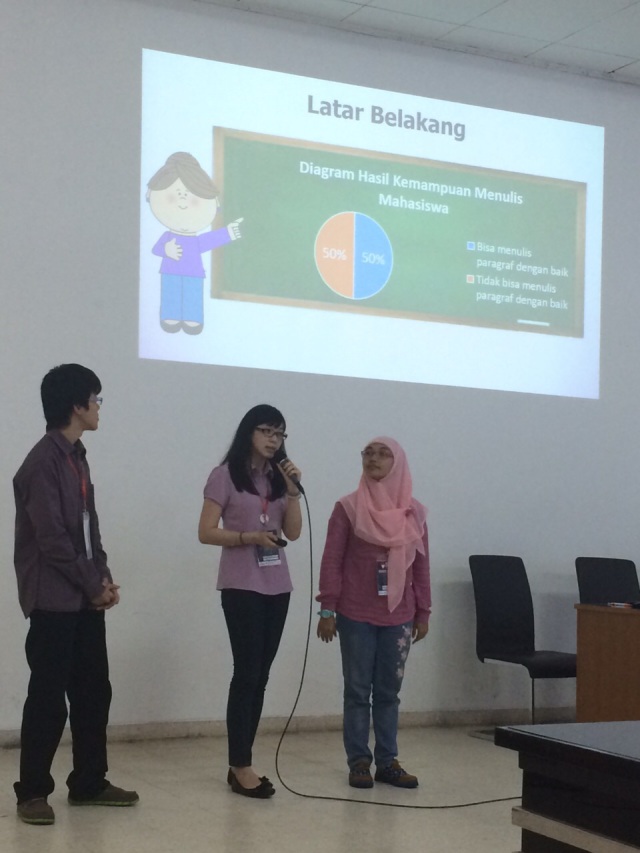 Hari pertama pada tanggal 14 Maret, kedua tim bertanding dengan mempresentasikan aplikasi mereka di hadapan 3 juri. Panitia membuat mini game untuk membuat peserta yang menunggu giliran presentasi, dan yang menarik disini, tim ELSA berhasil memperoleh skor tertinggi sehingga mereka mendapatkan hadiah dari panitia juga.
Setelah mempresentasikan karya mereka, tim menunggu pengumuman di hotel tempat mereka beristirahat. Sorenya, diumumkan bahwa dari 10 tim, kedua tim dari BINUS lolos ke babak final yang terdiri dari 5 tim.
Oleh karena itu, keesokan harinya tim ELSA dan THUMBS harus kembali mempresentasikan karya mereka di hadapan 3 juri yang berbeda. Dan juga, peserta diminta mempersiapkan dekorasi booth untuk memamerkan aplikasi mereka. Tanggal 15 Maret, kedua tim dari SoCS BINUS kembali bertanding di Kantor Pusat Fakultas Teknik UGM.
Sekitar pukul 5 sore, diumumkan kepada seluruh panitia dan peserta bahwa mahasiswa SoCS BINUS memperoleh dua posisi pada Software Development Competition, yaitu juara ke-2 dan juara ke-3.
Juara ke-2 diperoleh tim ELSA (Martin, Rudy, Josep) sedangkan juara ke-3 diperoleh tim THUMBS (Erinna, Anti, Ivan).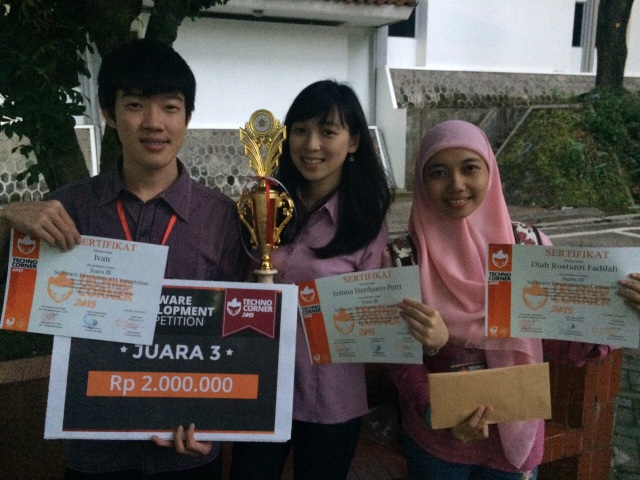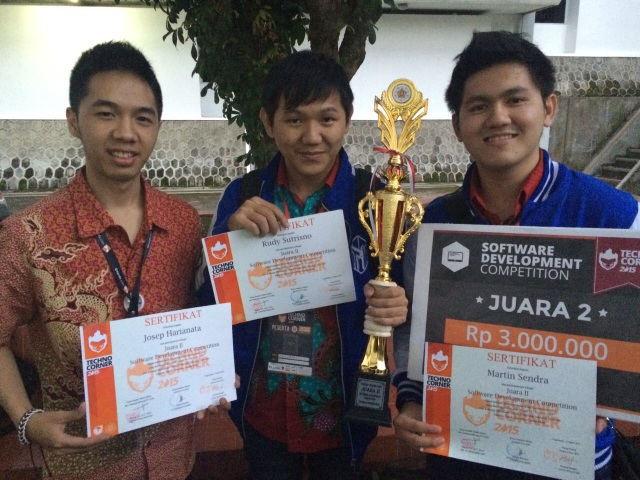 Selamat kepada seluruh mahasiswa SoCS yang kembali berprestasi di kompetisi nasional, semoga menjadi inspirasi untuk mahasiswa-mahasiswa yang lainnya.