Bp. Derwin Suhartono memperoleh Best Employee Award 2014 dan BINUS Star of Excellence 2014
Dalam rangka memberikan apresiasi dan rekreasi bagi seluruh karyawannya, BINUS mengadakan Family Gathering pada tanggal 2 Mei 2015 yang lalu dengan tema BINUS SPIRIT Festival. Acara ini juga dimeriahkan oleh beberapa artis ibukota, diantaranya Afgan, Judika, Glenn Fredly, D?Massive, Project Pop, dan Rhomedal. Berbagai makanan, snack, dan minuman juga meramaikan Family Gathering ini. Family Gathering merupakan acara korporat yang dihadiri oleh seluruh keluarga besar BINUS Group, sehingga tidak hanya karyawan dari BINUS University saja yang hadir. Karyawan dari BINUS Center, BINUS Square, BINUS School, dll juga hadir.
Agenda inti dari acara yang diadakan di BINUS School Serpong ini adalah pemberian penghargaan kepada karyawan yang berprestasi di tahun 2014. Pemberian penghargaan ini sudah dilakukan oleh BINUS secara rutin setiap tahunnya. Pada tahun ini yang bertepatan dengan Hari Pendidikan Nasional, BINUS memberikan penghargaan kepada karyawan yang sudah mengabdi lebih dari 25 tahun, karyawan terbaik di tahun 2014 serta yang terakhir adalah karyawan terbaik di antara yang terbaik (BINUS Star of Excellence).
Salah satu karyawan dari School of Computer Science berhasil memperoleh Best Employee Award 2014 yang diberikan kepada 32 karyawan dari seluruh BINUS Group. Adalah Bapak Derwin Suhartono sebagai CCC Intelligent Systems yang memperoleh penghargaan karena kontribusi di dalam keaktifannya menulis banyak paper, buku, serta banyak membawa mahasiswa untuk memenangkan berbagai perlombaan.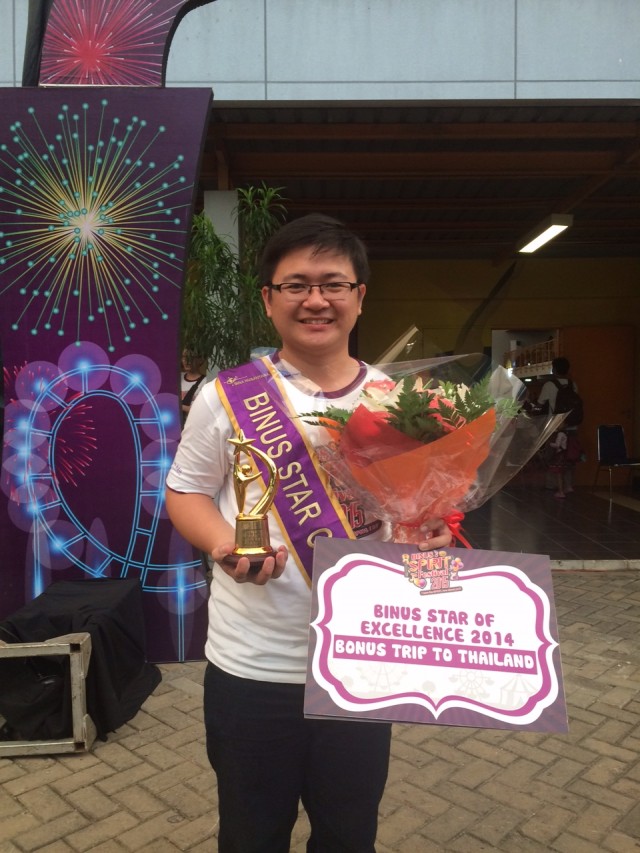 Ternyata tidak hanya Best Employee Award 2014 yang diperoleh Bapak Derwin Suhartono, tetapi juga BINUS Star of Excellence. BINUS Star of Excellence merupakan penghargaan yang diberikan kepada 10 dari 32 Best Employee Award 2014. Atas pencapaiannya ini, Bapak Derwin Suhartono memperoleh 2 tiket tour gratis ke Thailand.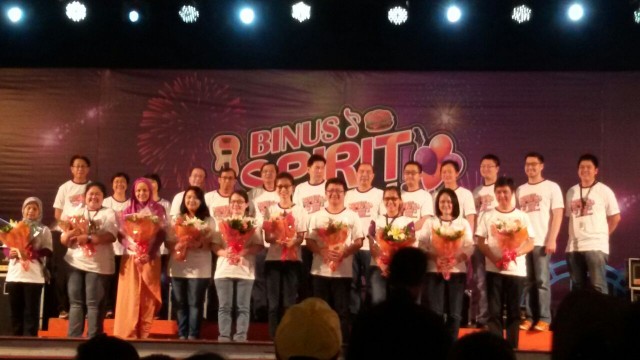 SoCS mengucapkan selamat kepada Bapak Derwin Suhartono. Terima kasih atas kontribusinya di tahun 2014. Semoga terus berkontribusi lebih banyak lagi di tahun-tahun berikutnya.