Perolehan Insentif Penulisan Buku Ajar (Buku Terbit) Tahun 2015 dari DIKTI oleh Faculty Member School of Computer Science atas nama Widodo Budiharto dan Derwin Suhartono
Berdasarkan surat edaran dari DIKTI bernomor 1682/E5.4/IB/2015 perihal Hasil Seleksi Insentif Penulisan Buku Ajar (Buku Terbit) tahun 2015, buku yang ditulis oleh dua Faculty Member School of Computer Science berhasil memperoleh insentif tersebut.
Pengumuman insentif ini bisa dilihat pada tautan sebagai berikut:
http://dikti2.dikti.netdna-cdn.com/wp-content/data/data/2015/07/PENGUMUMAN-INSENTIF-BUKU-2015.pdf
Buku yang berjudul "Artificial Intelligence: Konsep dan Penerapannya" ini ditulis oleh Dr. Widodo Budiharto, S.Si., M.Kom. dan Derwin Suhartono, S.Kom., M.T.I. sejak awal tahun 2013 dan berhasil diselesaikan di awal tahun 2014. Buku ini sudah beredar di pasaran sejak akhir 2014 yang lalu. Buku ini ditujukan secara khusus untuk mahasiswa di seluruh Indonesia yang sedang dan berminat untuk belajar mengenai ilmu Kecerdasan Buatan.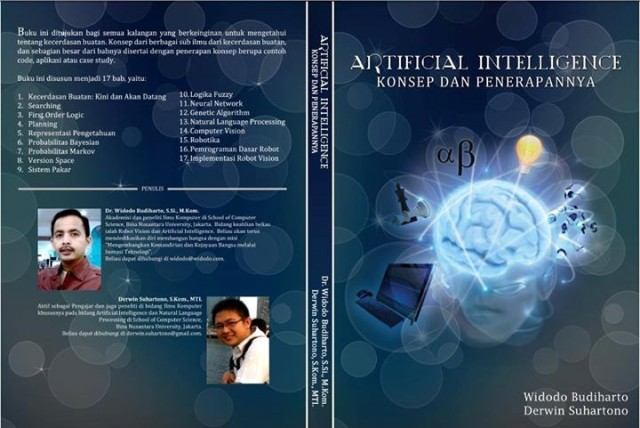 Selamat kepada Bp. Widodo Budiharto dan Bp. Derwin Suhartono atas pencapaian yang sudah diperoleh. Semoga buku yang sudah diterbitkan ini bisa bermanfaat bagi perkembangan ilmu pengetahuan, khususnya di Indonesia.