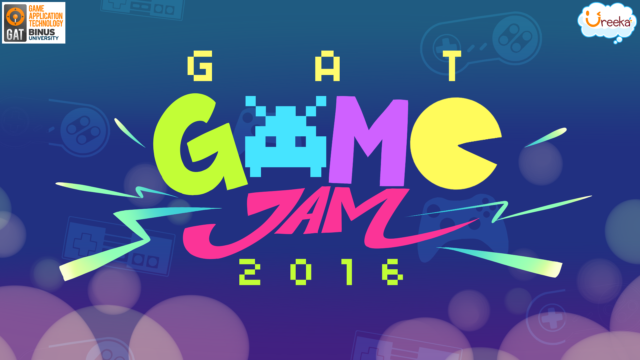 Pada tanggal 30 Juni sampai tanggal 2 Juli kemarin diadakan GAT Game Jam di ruang K3F Syahdan, total peserta yang hadir 18 orang, dan dibagi ke beberapa kelompok masing masing 3 sampai 4 orang untuk membuat game selama 3 hari,
oh, mungkin bagi beberapa teman-teman istilah Game Jam mungkin masih asing. apa sih Game Jam itu? Game Jam merupakan suatu kegiatan dimana sekelompok orang-orang yang memiliki kesamaan hobi yaitu membuat game, berkumpul di suatu tempat dan melakukan hobi mereka tersebut, yaitu membuat game. Orang-orang tersebut biasanya merupakan kumpulan programmer, artist, game designer, dan segala pekerjaan yang berhubungan dengan pembuatan game. Dimana yang biasanya orang-orang tersebut bekerja bersama tim mereka masing-masing, sekarang akan ditantang untuk bekerja sama dengan orang-orang lain yang masih memiliki kesamaan passion. Game Jam biasanya akan dilaksanakan dalam waktu yang pendek antara 24 jam atau 48 jam. Untuk membuat acara semakin seru akan ditentukan suatu tema untuk game yang akan diberitahu saat acara berlangsung, jadi para peserta tidak akan memiliki kesiapan untuk membuat game tersebut. Jadi benar-benar membuat game secara dadakan (sumber : gamedevsby.wordpress.com)
dan hasil game-game dari Game Jam 2016 ini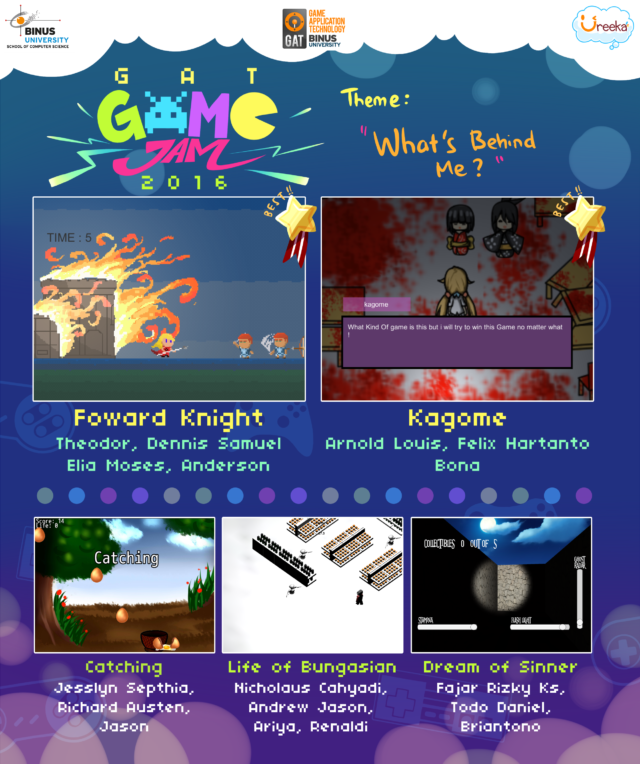 Foward Knight

1801418673 – Theodor
1801373952 – Dennis Samuel
1801393393 – Elia Moses
1801376456 – Anderson
Kagome

1901463085 – Arnold Louis
1901464056 – Felix Hartanto
Bona
Dream of Sinner

1801438372 – Todo Daniel
1901469006 – Fajar Rizky KS
1801386261 – Briantono
Life of Bungasian

1701301832 – Andrew Jason
1801375182 – Ariya
1701292185 – Nicolaus Cahyadi
1701298661 – Renaldi
Catching

1701291945 – Jason
Jesslyn Septhia
Richard Austen
Hasil gamenya keren-keren banget loh, padahal mereka hanya punya waktu selama 3 hari untuk membuat gamenya. Dan dari kelima game diatas terdapat 2 game terbaik yaitu Foward Knight dan Kagome karena gameplay yang unik dan sesuai dengan tema Game Jam ; "What's Behind Me?".
nantikan Game Jam berikutnya yaa!!