Jessica Handojo, a Software Engineer Intern at Google HQ
I am Jessica Handojo, a senior student from BINUS University. I take Computer Science as my major with specialization in Artificial Intelligence. I started to study programming when I was 15 yo and regularly competing in local/national programming competition. Then I was one of four Indonesia's delegate on International Olympiad in Informatics (IOI) on 2011 and the road continues until I got accepted to Google Internship 2016 at Mountain View (MTV) which is Google HQ! Yay! Never thought I would make it this far.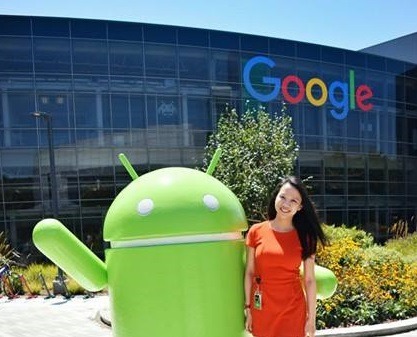 The process to get here as an intern was I knew some friends who work at Google and they encouraged me to join them, it was on 2013. But it's only on August 2015 that I had the courage to submit my resume to Google MTV. The process took almost half a year, from interviews, host matching, and US Visa application. The interviews broke my nerve completely! I'm so grateful I nailed them. Meanwhile, host matching is the process to find the right mentor and project for each intern. It's almost like finding your soulmate hahaha if you can't find the right mentor and project at the deadline, you'll be matched with whatever left. But it doesn't matter anyway because it's Google! Whatever the project is, they're still beyond your expectation.
My internship started on July up to September for 12 weeks as a Software Engineer Intern (SWE Intern). I join Android Run Time (ART) team, which basically the compiler of Android OS. I'm working on the memory compression so that the all process in the Android will use smaller spaces. I work with full-timers and what I submit will be published directly. I was so scared, I thought, "I might ruin Android OS!" However, the senior engineers here are so nice and helpful. They review my code and give a lot of suggestion. So that at the end I'm able to working together with them.
I was so sure that Google is amazing and still I'm amazed day by day! It feels like you live in the future because in Google we can find the latest technologies that are not public yet. Google also gives talks, a lot of talks about everything, from the best experts you can find in the world. They care about employee's growth holistically. And of course, free flow foods. People say that's the best thing and yes I totally agree! We have 47 cafes in total and they all serve different foods every day and night, you can pick anything you want for free, including various drinks, snacks, and appetizers. People gain weight here. You can't run away from it! :)) We also have nap pods, comfy sofas everywhere, I have one in my cubicle, so that you can take a nap in the middle of your work. There are microkitchens too, a place where snacks, coffee, and sometimes pool table, ping pong table, and other stuffs belong. I have 2 microkitchens on my floor, the nearest is barely 1 minute walking :))
I work with the best compiler engineers in the world. I use to work more on the top layers or front end, so that working on low level like this is an adventure. Google is also the prodigy of mature process of software development. They teach us how to create good design, code, and tests. In the first week of my internships, I was assigned to several classes and it was totally worth hundreds of my hours. You'll know things from the biggest tech company in the world! Nevertheless, huge amount of knowledge also need extra effort. I need extra hours to catch up with the technologies here, but who doesn't want to? 🙂
So far, the coolest thing ever is to see Sergey Brin and Larry Page, who was the CEO and CTO of Google (now President and CEO of Alphabet, Inc.) in just 2 meters away from me. "Are those man the guys who started Google?" And yes they are. If before I can only "googled" them on Google Search Engine, now they are in front of me. I can't believe it. Oh, and they're very humble, nice, and funny too!
On the first several days I was struggling a little on fitting myself into the whole different culture in the US. I mean, I was prepared for that, but when you're there still it's something new. Beside, this is my first time in the US and communicating in English 24/7 is crazy. It feels like you want to say Bahasa Indonesia words each time, but then translating them inside your head, and then burst everything with no grammar. Just sequence of words! :)) I need to pick up slangs and the "real" English very quick so that I'll be able conveying my thoughts well. Besides that, all other things are just beyond perfect 🙂
I'm truthfully blessed and lucky to be even here, the company I've been dreaming since I was 15 yo. I still remember the tears of joy when I heard my recruiter said, "Congratulations! You're officially get one spot for our summer internship at Google!" To be one of 3800 interns globally in Google is one thing I'll be forever grateful for. Three months here is more than thousands pages of books I've ever read. The experience is incomparable. This is a dream comes true for me, and I'll keep chasing my dreams onwards 🙂