Mahasiswa BINUS University di Final Kompetisi Hacker Nasional, Cyber Jawara 2016
Bulan September 2016 silam, mahasiswa dari BINUS University berkesempatan untuk berkompetisi di acara Cyber Jawara 2016 – CodeBali yang di selenggarakan oleh ID-Sirtii (Indonesia Security Incident Response Team On Internet Infrastructure) di Bali (26 September – 1 Oktober 2016). Sebagai finalis pada acara Cyber Jawara, TIM PETIR dari Binus University berhasil mengungguli lebih dari 150 tim lainnya dan berhasil menjadi 15 tim terbaik yang lolos ke Cyber Jawara 2016 di Bali. TIM PETIR diwakilkan mahasiswa School Of Computer Science serta UKM Cyber Security Community yaitu Anthony Viriya, Antonio Andre dan Michelle Neysa dengan di bimbing oleh Yohan Muliono, S.Kom.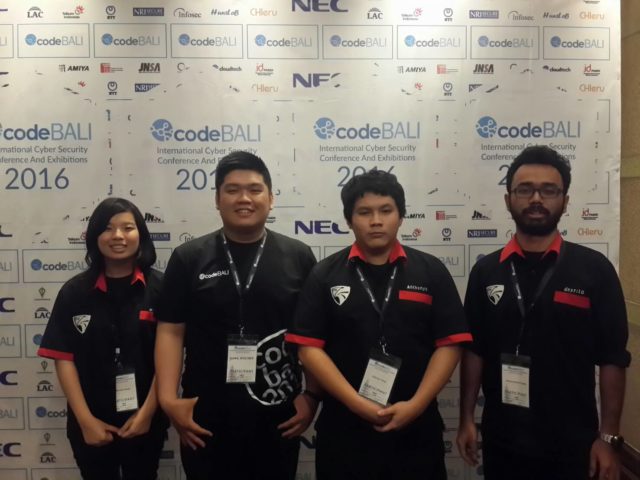 Cyber Jawara adalah kompetisi hacker nasional yang diadakan secara online dan offline. Meliputi berbagai aspek pertahanan jaringan komputer, yang bertujuan untuk menemukan tim pertahanan jaringan komputer terbaik. Kompetisi Cyber Jawara merupakan wadah yang tepat untuk menyalurkan keahlian para mahasiswa dalam membela pertahanan Negara. Cyber Jawara menguji tiga jenis kemampuan :
Pertama, kemampuan peserta dalam mempertahankan server yang dimiliki sekaligus menyerang secara random server yang di jaga oleh tim lawan (CND\Computer Network & Defense).
Kedua, kemampuan mencari kelemahan sistem yang diberikan panitia. Peserta diharuskan menemukan suatu titik kelemahan pada sebuah sistem (Pentest\Penetration Testing).
Ketiga, kemampuan masalah yang diberikan oleh panitia berupa eksploitasi sistem, kriptografi, forensika digital, atau hal lainnya (CTF\Capture The Flag).