Industrial Gathering – School of Computer Science
Pada bulan Maret 2018 dan April 2018 ini, School of Computer Science mengadakan acara yang dinamakan Industrial Gathering. Acara ini merupakan kegiatan dimana program studi yang ada di School of Computer Science bertemu dengan pelaku-pelaku industri untuk melakukan suatu diskusi mengenai kurikulum, kerjasama, 3+1 dan lain-lain.
Acara Industrial Gathering ini dimulai dengan program studi Computer Science, yang diadakan pada tanggal 23 Maret 2018 di kampus Anggrek, BINUS University. Pelaku industri yang hadir adalah AIA, BCA, Indivara, Kalbe, Metrodata Electronics, Omni vr, PT Absolute Connection, TIKI, Bukalapak, PT Moonlay Technologies, dan PT Mitra Integrasi Informatika.
Lalu pada tanggal 27 Maret 2018, jurusan Mobile Application and Technology bertemu dengan pelaku-pelaku industri yang diantara nya adalah : iQuartz Singapore, Kudo, dan Ralali.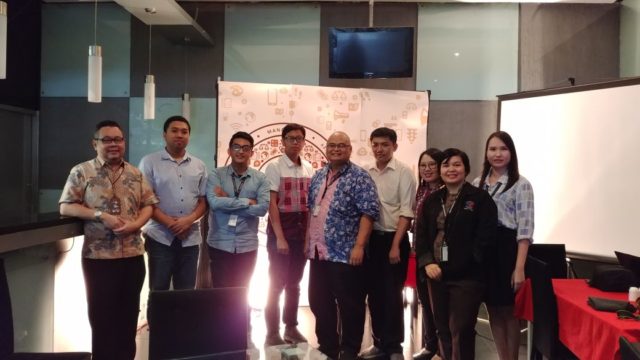 Selanjutnya adalah jurusan Game Application and Technology yang mengadakan acara industrial gathering di tanggal 6 April 2018, dengan pelaku -pelaku industri dari Agate, AGI, Alegrium, Erajaya, Megaxus, Metrodata, PT Sinar Eka Selaras, Puncak Keemasan Dinamis Indonesia, Toge Productions, Touchten, dan PKG.
Untuk jurusan Cyber Security, Industrial Gathering diadakan pada tanggal 10 April 2018. Pelaku industri yang hadir adalah PT. XL Axiata Tbk, RSA Security, Indonesian Cloud, DBS Bank, PT IBS Insurance Broking Service, dan Ernst & Young.
Terakhir adalah acara industrial gathering dengan program studi Teknik Informatika – Matematika dan Statistika. Pelaku industri yang hadir adalah Asuransi Astra, Asuransi Astra, Go-Jek, Leap Research, PT AJ Central Asia Raya, PT Bank Central Asia, PT Sqiva, PT Wom Finance, PT. Bank Mandiri (Persero), Tbk, Tiket.com, Moka Pos, OVO, Ghd, dan Dipo Star Finance
Dengan adanya acara Industrial Gathering ini diharapkan akan memberikan output yang baik untuk School of Computer Science dalam hal kerjasama, 3+1, kurikulum dan lain-lain.