HyperText Markup Language (HTML)
HTML (HyperText Markup Language) merupakan markup language. Markup language merupakan bahasa yang digunakan untuk membuat halaman Web. HTML dapat digunakan untuk layout, font, dan element grafic. Setiap halaman Web dibangun dengan menggunakan tag HTML (code HTML) yang ditanamkan dalam text.
HTML Tags merupakan instruksi yang digunakan untuk menginformasikan kepada browser mengenai format konten yang digunakan. Berikut contoh tag HTML yang dapat digunakan :

Attribute Tag HTML
Attribute yang dimaksud digunakan untuk informasi tambahan pada elemen HTML. Attribut selalu ditentukan di awal elemen HTML. Nilai attribute yang digunakan  selalu menggunakan tanda kutip. Berikut merupakan contoh dari Attribute tag HTML :
<h1 align="center"> has additional information about the alignment.</h1>
<body bgcolor="yellow"> has additional information about the background color.</body>
<table border="1″> has additional information about the border around the table.</table>
Berikut merupakan tabel Tag HTML yang biasa digunakan secara umum :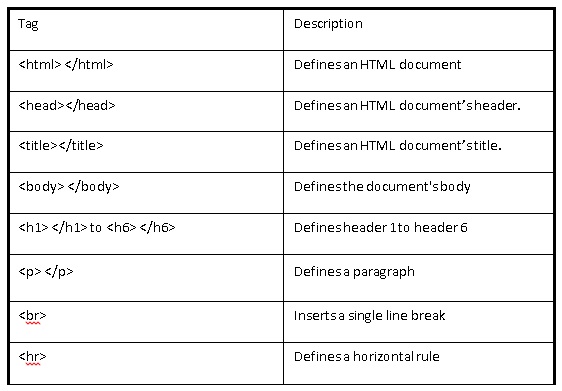 Berikut merupakan contoh sederhana mengenai HTML :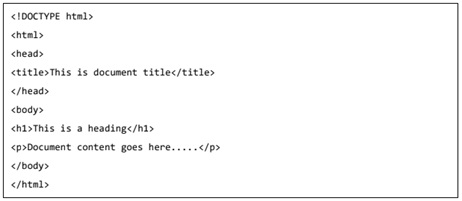 Berikut merupakan hasil dari tampilan tag HTML diatas :

Comment pada HTML
Comment merupakan catatan atau dokumentasi dan tidak akan ditampilkan pada browser.
Comment menjelaskan sebagai catatan apa yang akan dilakukan oleh kode sehingga orang dapat memahami fungsi kode yang dibuat dikemudian hari.
Comment HTML dapat menggunakan tag berikut ini :
<!– and end with a –>
HTML Background
HTML Background digunakan untuk menentukan background yang dapat digunakan pada tampilan web. Background dapat berupa warna atau gambar.
Bgcolor : merupakan attribute untuk menentukan warna pada halaman HTML.

Background : merupakan attribute untuk menambahkan gambar pada halaman HTML. Jika gambar yang diberikan kecil maka gambar tersebut akan diulang hingga seluruh tampilan browser tertutup gambar tersebut.

Warna pada HTML
Warna pada HTML dapat didefinisikan dengan menggunakan notasi hexadesimal, dari warna Merah, Hijau, dan Biru (RGB).
Nilai terendah yang dapat diberikan ke satu sumber cahaya adalah 0 (hex # 00) dan nilai tertinggi adalah 255 (hex #FF).

Sumber : https://www.tutorialspoint.com/html/