Faculty Mobility from BINUS University to Universiti Malaysia Pahang(UMP)
Pada tanggal 12-24 November Dr. Faisal dari program Teknik Informatika-Matematika Binus University melakukan program Faculty Mobility from BINUS University to Universiti Malaysia Pahang(UMP). Program ini merupakan kelanjutan dari program Faculty Mobility dimana School of Computer Science dari Binus University menerima kunjungan Dr. Kohbalan Moorthy dari UMP pada bulan April 2018. Pada program ini Dr. Faisal ditempatkan pada Mathematics program di bawah Faculty of Industrial Sciences and Technology(FIST), UMP kampus Gambang, Malaysia. Selama berada di UMP Gambang Dr. Faisal melakukan kegiatan utama yaitu teaching, joint research discussion dan meeting with faculties. Dr. Faisal memberikan kuliah dalam kelas Discrete Mathematics and Application dua jam per hari selama 3 hari dengan materi Teori Graf.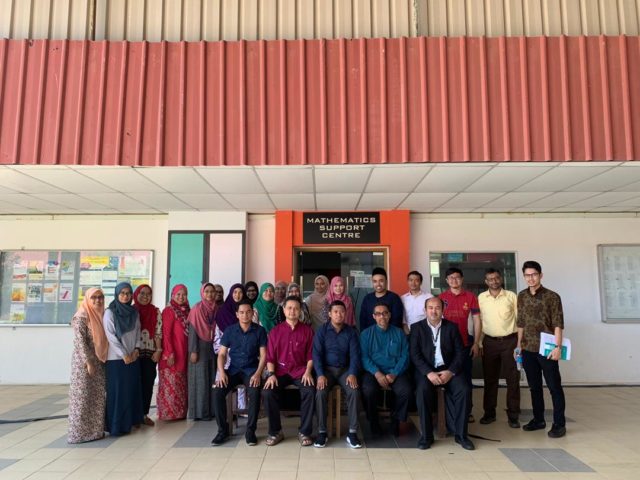 Pada hari pertama di kampus Gambang UMP Dr. Faisal diterima oleh Deputy Dean (Academic dan Students Affairs),  Head of Program Mathematics Dr. Mohd Zuki dan Faculty member Dr. Yuhan. Pada tanggal 21 November 2018 Dr. Faisal juga melakukan kunjungan ke kampus UMP Pekan yang berjarak sekitar 60 km dari kampus UMP Gambang. Pada hari terakhir Jumat tanggal 23 November Dr. Faisal menjadi speaker acara Sharing Knowledge untuk Monthly Mathematical Colloquium(MMC) mengenai kriptografi dan bertemu dengan faculties member of Science Program(Mathematics) dan Post Graduate(Mathematics) UMP. Setelah acara MMC Dr. Faisal bertemu dengan Dean FIST Dr. Mohd Hasbi Ab Rahim mendiskusikan beberapa hal mengenai kelanjutan kerjasama antar program Matematika Binus dan Matematika UMP.