Circular story form merupakan gambaran dari tahapan-tahapan hero's journey yang ditemukan oleh Volger. Story yang dirancang menggunakan Circular story from akan berakhir pada tempat awal story tersebut dirancang. Setiap langkah-langkah yang ada di circular story form akan membentuk karakter player dari pemain biasa menjadi seorang hero. Langkah-langkah dari Volger'shero's journey adalah: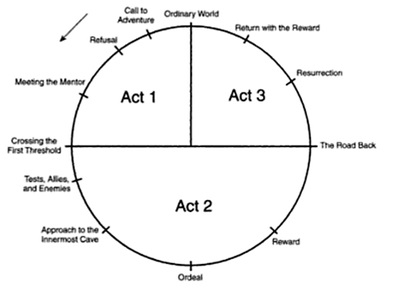 The ordinary world
The ordinary world

adalah dimana pemain bertemu dengan

hero

dan diperkenalkan kepada latar belakang

hero

tersebut dan kehidupan normalnya.
The call to adventure
The call to adventure

adalah pertama kali firasat dari

hero

untuk meninggalkan pengamanan dari

ordinary world

dan memasuki

special world

untuk memulai petualangan.
The refusal of the call
The refusal of the call

menceritakan tentang penolakan dari dalam diri

hero

terhadap perjalanan yang harus ia tempuh.
The meeting with the mentor
The meeting with the mentor

menceritakan saat

hero

bertemu dengan sosok

mentor

yang membuatnya menjadi terinspirasi.
Crossing the first threshold
Crossing the first threshold

menceritakan saat

hero

berhasil melewati rintangan pertama yang di hadapinya.
Test, allies and enemies
Test, allies and enemies

menceritakan hubungan

hero

dengan orang-orang di sekitarnya serta rintangan yang ia temui selama perjalanan.
The approach to the innermost cave
The approach to the innermost cave

menceritakan tentang persiapan sang

hero

dalam menghadapi rintangan besar yang akan terjadi selanjutnya.
The ordeal
The ordeal

menceritakan rintangan yang sangat berat yang mengancam nyawa sang

hero.
The reward
The reward

menceritakanapa yang di dapatkanoleh sang

hero

setelah dapat menyelesaikan rintangan sebelumnya.
The road back
The road back

menceritakan perjalanan

hero

setelah mendapat

reward

dan hendak kembali ke dunia asalnya
The resurrection
The resurrection

adalah suatu poin di dalam cerita dimana segala macam masalah akan diselesaikan disini.
The return with reward
The return with reward

menceritakan sang

hero

telah kembali ke dunia asalnya untuk melanjutkan kehidupannya seperti biasa dan ini merupakan

ending

dari cerita.

Referensi:
Rollings, A., & Adams, E. (2003). Andrew Rollings and Ernest Adams on Game Design. United States of America: New Riders Publishing.