Storyboard
Storyboard adalah sebuah papan cerita, bentuknya seperti komik. Dengan adanya storyboard, pembuat cerita dapat menyampaikan idenya secara dengan mudah kepada orang lain. Storyboard dapat membuat seseorang mempunyai gambaran dari alur sebuah cerita yang dibuat. Selain gambar, di dalam storyboard juga menjelaskan tentang elemen-elemen lain seperti warna, font, suara, dan navigasi. Di dalam suatu proyek, biasanya sketsa storyboard dibuat hitam putih dan diatur secara berurutan.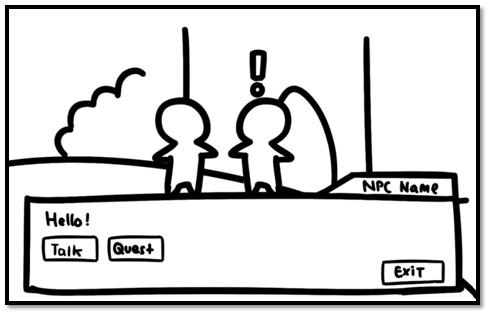 Gambar 1. Sketsa Dialog dengan NPC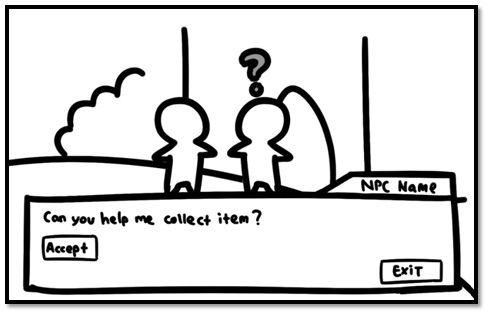 Gambar 2. Sketsa Take Quest
Setiap gambar disertai dengan catatan dan spesifikasi sebelum rendering. Setiap hal-hal yang penting selalu dijelaskan di dalam storyboard agar tidak ada yang tertinggal. Langkah-langkah dalam membuat storyboard:
Mencatat hal-hal yang dianggap penting dari sebuah ide.
Memiliih media yang cocok untuk membuat storyboard.
Membuat daftar kegiatan atau kronologi cerita storyboard yang akan dibuat.
Menentukan alur cerita.
Membuat semua sketsa untuk semua cerita dan berikan juga detail yang dianggap penting untuk cerita tersebut.
Berikut template storyboard yang dapat digunakan:
Multimedia Storyboard
Project:
Date:
Screen: xx of xx
Screen ID:

Screen Description:

Link From Screen ID:
Link to Screen ID:
Color Scheme:
Text Attributes:
Still Images:
Audio:
Video:
Animation:

Referensi:
Vaughan, T. (2011). Multimedia: Making It Work 8th Edition. New York: McGraw-Hill.