Studi Banding Prodi Teknik Informatika Universitas Brawijaya Malang dengan Computer Science Program BINUS University
Program Studi Teknik Informatika Universitas Brawijaya Malang bertandang ke BINUS University untuk melakukan studi banding dengan School of Computer Science pada tanggal 26 Maret 2019. Universitas Brawijaya diwakili oleh Bp. Agus Wahyu Widodo, S.T, M.Cs. (Ketua Program Studi), Bp. Drs. Muh. Arif Rahman, M.Kom (Ketua Kelompok Jabatan Fungsional Dosen Komputasi Cerdas), dan Bp. Arief Andy Soebroto, S.T, M.Kom (Dosen). Sedangkan dari School of Computer Science diwakili oleh Bp. Dr. Derwin Suhartono, S.Kom, M.T.I., bersama Ibu Santy, S.Kom., M.Sc., Ibu Novita Hanafiah, S.Kom, M.Sc, dan Bpk Hanry Ham, S.Kom, M.Eng.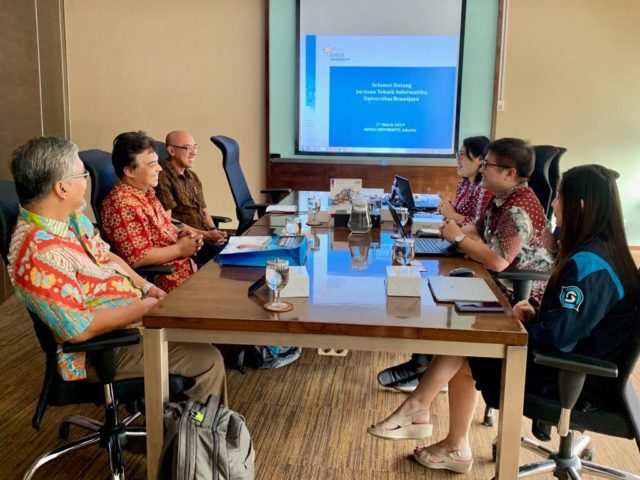 Hal yang didiskusikan pada kegiatan studi banding ini meliputi penyusunan kurikulum, penjagaan kualitas lulusan, enrichment program, kolaborasi dengan industri, dan sebagainya.
Semoga pertemuan ini dapat mempererat kerjasama dan menambah wawasan serta pengetahuan untuk pendidikan tinggi yang lebih baik.