School of Computer Science dipercaya oleh Tim Olimpiade Komputer Indonesia untuk membina 4 siswa SMA para medalis OSN
Sebagai salah satu perguruan tinggi yang mendukung pengembangan teknologi informasi di Indonesia, BINUS UNIVERSITY melalui School of Computer Science dipercayai oleh TOKI (Tim Olimpiade Komputer Indonesia) untuk membina 4 siswa SMA para medalis OSN (Abdul Malik Nurrokhman, Moses Mayer, Vincent Ling, Fausta Anugrah Dianprama), yang dilatih oleh Dosen sekaligus Pelatih Pelatnas 4 TOKI Felix Jingga selama 2 minggu, untuk persiapan menuju IOI 2019 (International Olympiad in Informatics) di Baku, Azerbaijan.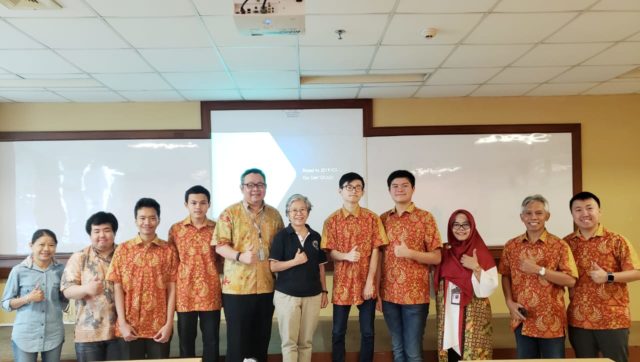 Setelah menjalani pelatihan selama 2 minggu, pada tanggal 31 Juli 2019, diadakan acara pelepasan 4 siswa ini oleh Dean of School of Computer Science, Bapak Fredy Purnomo. Semoga 4 siswa ini bisa mendapatkan hasil yang terbaik dan dapat mengharumkan nama Indonesia di ajang IOI 2019! Pelatihan ini adalah wujud kerjasama baik antara TOKI dan BINUS UNIVERSITY. Kedepannya, semoga kerja sama seperti ini lebih bisa ditingkatkan sehingga BINUS UNIVERSITY dapat turut andil dalam memberikan kontribusi yang baik dan positif untuk Indonesia. Go Get Gold!