Kegiatan External Examiner : Mr Claus Aranha, PhD – University os Tsukuba, Japan.
External examiner adalah salah satu initiative dari BINUS University untuk meningkatkan kualitas materi dan proses perkuliahan di BINUS. Pada program ini, BINUS mengundang dosen ahli dari universitas luar negri untuk melakukan review materi mata kuliah tertentu dan juga berkontribusi dengan membuat sebagian dari soal ujian akhir yang akan dikerjakan mahasiswa.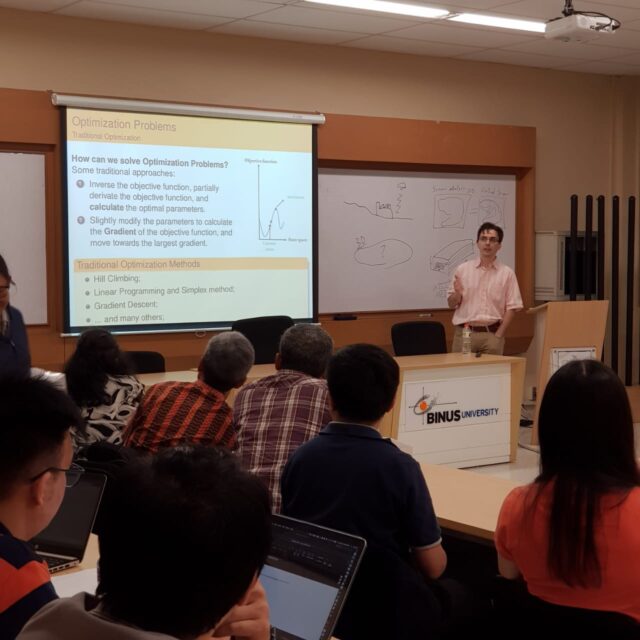 Pada kesempatan kali ini, SoCS mengundang Claus Aranha, PhD, dari University of Tsukuba, Jepang, untuk menjadi External Examiner di mata kuliah Algorithm and Programming. Selama satu minggu beliau di BINUS, beliau memberikan guest lecture di semua sesi dari collaborative learning pada mata kuliah Algorithm and Programming. Untuk mata kuliah ini, Prof. Aranha juga memberikan masukan-masukan untuk pengembangan materi kedepannya.
Prof. Aranha juga membagikan pengalamannya kepada Jollybee (programming team BINUS) dan memberikan seminar dengan topik "Musings on Evolutionary Computation" yang dibuka umum untuk semua mahasiswa SoCS. Sedangkan untuk dosen, Prof. Aranha membagikan pengalaman risetnya dalam acara Create Sharing Knowledge dengan topic "Multi-Objective Optimization".