Penyelenggaraan Kompetisi ICPC Asia Jakarta 2019
International Collegiate Programming Contest atau ICPC Asia Jakarta Regional merupakan kompetisi programming tingkat Asia yang diselenggarakan di Jakarta, Indonesia. Kompetisi ini merupakan kompetisi berskala internasional dengan peserta yang terdiri dari beberapa negara di Asia termasuk Indonesia sebagai tuan rumah.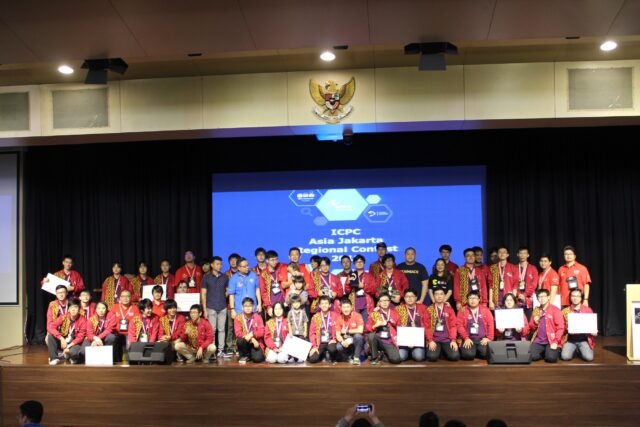 Tahun 2019 merupakan tahun ke 11 ICPC Asia Jakarta Regional diselenggarakan di Binus University. Kompetisi yang berlangsung pada tanggal 26-28 Oktober 2019 ini diikuti oleh 80 tim, 10 tim dari universitas luar negeri, yaitu Singapore, Vietnam, Jepang, Taiwan, dab Shanghai dan 70 tim dari universitas dalam negeri yang salah satunya diikuti oleh Binus University.
Opening ceremony dibuka oleh sambutan dari Prof Widodo Budiharto, selaku Guru Besar SoCS Binus University, lalu sambutan oleh Ibu Yen Lina Prasetio, selaku Regional Contest Director, dan secara resmi dibuka dengan pemukulan gong oleh Dean of School of Computer Science, Bpk Fredy Purnomo. Tidak lupa persembahan musik dari paduan suara mahasisa binus Paramabira sebagai performance dan perkenalan tim oleh Ketua Umum ICPC Asia Jakarta Regional 2019, Bpk Hanry Ham.
Pada hari pertama ini diadakan trial session, dimana para peserta dapat melakukan latihan dan uji coba contoh soal kompetisi. Selain itu peserta juga mendapatkan arahan kompetisi oleh Head Judge, Jonathan Irvin Gunawan. Kompetisi akan diadakan pada hari ke-dua yaitu tanggal 27 Oktober 2019, yang akan berlangsung selama kurang lebih 5 jam.
#competition #competition2019