Software Architecture – CALL AND RETURN ARCHITECTURE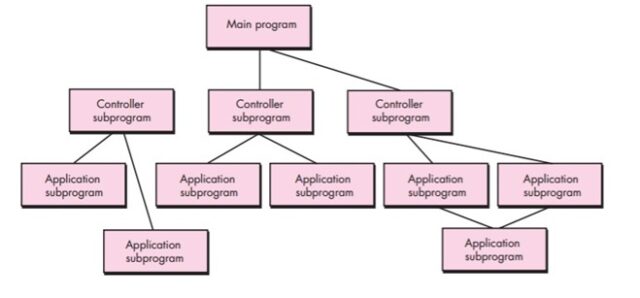 Call and Return Archicture adalah sebuah bagan atau struktur program yang disusun secara hierarki yang artinya tingkatan dari bawah sampai di atas, jika kalau di bawah maka tingkatannya rendah dan yang paling atas tingkatannya tinggi. Dan Struktur Architecture ini terbagi ada beberapa sub program yang terdiri dari program utama dan beberapa sub program lainnya. Gaya Arsitektur ini memungkinkan kita untuk mencapai struktur peogram yang relatif lebih mudah untuk dimodifikasi.
Program Utama atau Sub Program yang ada pada gambar diatas, memiliki struktur program yang klasik dan dapat mendekomposisi sebuah fungsi menjadi hirarki yang dimana program utama dapat memanggil sejumlah komponen – komponen program yang lain. Remote procedure call architectures ,komponen ini digunakan dalam arsitektur program utama atau sub program yang didistribusikan di antara banyak komputer di jaringan.
Jadi , call and return architecture memungkinkan perancang perangkat lunak untuk mencapai struktur program, yang dapat dengan mudah dimodifikasi.
Referensi dari Ebook
Daftar Pustaka
Pressman, Roger S. 2010. Software Engineering A PRactitioner's Approach, Seventh Edition. New York : McGraw-Hill
Author : Andre Antolis, Marcelina Prayangga, Andhika Ramadhan Putra, Michelle William Tanoto, Hany Alexandra Philemo, Farabela Putri Dini Hari
Supervised by : Irma Kartika W, S.Kom., M.T.I