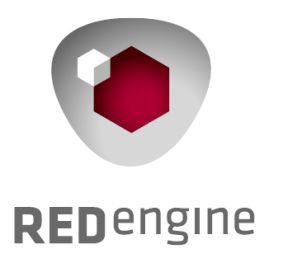 REDengine 2
Redengine 2 memanfaatkan middleware seperti Havok untuk fisika, Scaleform GFx untuk antarmuka pengguna, dan FMOD untuk audio. Mesinnya digunakan untuk port Xbox 360 dari The Witcher 2.
REDengine 3
REDengine 3 dirancang untuk berjalan secara eksklusif pada platform perangkat lunak 64-bit, CD Projekt RED menciptakan REDengine 3 untuk pengembangan lingkungan permainan video terbuka di dunia, seperti game The Witcher 3: Wild Hunt dan Mendatang Cyberpunk 2077.
Ini memperkenalkan perbaikan animasi wajah dan animasi lainnya. Efek pencahayaan tidak lagi menderita rasio kontras berkurang. REDengine 3 juga mendukung efek volumetrik yang memungkinkan rendering awan, kabut, kabut, asap, dan efek partikel lainnya yang canggih. Ada juga dukungan untuk tekstur dan pemetaan resolusi tinggi, serta fisika dinamis dan sistem sinkronisasi bibir dialog lanjutan. Namun, karena keterbatasan tekstur streaming, penggunaan tekstur beresolusi tinggi mungkin tidak selalu demikian. 
REDengine 3
memiliki perender fleksibel yang disiapkan untuk jaringan pipa penahan atau forward + rendering. Hasilnya adalah beragam efek sinematik, termasuk bokeh depth-of-view, gradasi warna dan flare lensa yang terkait dengan pencahayaan ganda.
Sistem medan di REDengine 3 menggunakan material tessellation dan lapisan yang bervariasi, yang kemudian mudah dicampur.
REDengine 4
Pada tahun 2017, CD Projekt mengungkapkan bahwa mereka memiliki empat proyek dalam pengembangan dan akan berjalan dari 01/2016 dan 01/2017 sampai 06/2019. Semua proyek akan disertakan dalam RedEngine 4, iterasi berikutnya dari RedEngine.
REDengine portabel di platform perangkat lunak 32 dan 64-bit dan berjalan di bawah Microsoft Windows. REDengine pertama kali digunakan di The Witcher 2: Assassins of Kings untuk Microsoft Windows. Redengine 2, versi terbaru dari REDengine yang digunakan di The Witcher 2, juga berjalan di bawah Xbox 360 dan kedua OS X dan Linux, namun port ini dibuat dengan menggunakan lapisan kompatibilitas yang mirip dengan Wine yang disebut eON. REDengine 3 dirancang khusus untuk platform perangkat lunak 64-bit, dan juga berjalan di bawah PlayStation 4 dan Xbox One.
Penulis:
Yogi Udjaja
Terrece Sukri