The Opening for Realm of the Mad God
Realm of the Mad God is a fun, easy to learn and difficult to master MMORPG that uses its retro aesthetics to make it viable for players with poor internet connection or computers with weaker processing power to play a very fun and engaging game. However, introducing a player into a game this massive is a daunting task any game designers might face. There's so many mechanics and features that the player needs to be aware of in order to have actual fun in the Realm of the Mad God. One of those decisions is letting the first playable class a Wizard; a fragile glass cannon.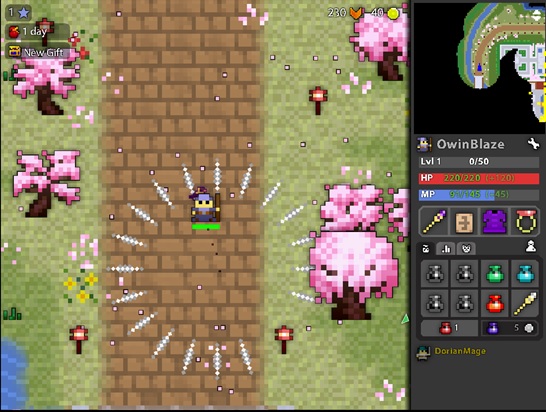 When trying to give players a choice to start a game, most games would definitely give the player a class which is balanced. A healthy number of HP, MP, attack, defense, speed so that the player has a taste of every play style, and that the players can choose their preferred play style down the line. However, the wizard class in Realm of the Mad God gives you the wizard. A squishy character with high damage potential and good range – hardly something that sounds balanced to begin a game. However, there are several good reasons for why this class is the beginner's class.
In Realm of the Mad God, death is permanent. Having a squishy character is a nightmare for any game that features permanent death. However in Realm of the Mad God, the fact that it has permanent death is the very reason why you're given a squishy character. You are being taught to be good at dodging from the beginning, or you will lose anything. If you start with a character that can withstand more punishment, you will experience a less enjoyable time when using the robe class, which stands for about 1 third of the classes in the game.
In order to attack, your bullets must connect with an enemy. Wand, sword, dagger, bow and katana classes don't have the luxury of having a wide and long range of attack. The staff which a wizard uses has a wavy pattern, making its 2 shots weave into a pattern which is wide enough to hit a lot of enemies with less precision. However, the players are given a motivation to aim well. If the players don't aim well, they only retain half of their maximum damage, teaching the players to not only dodge, but also aim at the same time.
A strong point of the wizard is the fact that a wizard's skill is very flexible, depending on your technique and mastery over its applications. Provided that you can aim its ability, you can hit single targets for ridiculously high damage, ones which make other damage classes stare in jealousy. What a wizard spell does is that it sends a wave of projectile outwards from your cursor. Sounds very simple, yet aiming where your target exactly is takes timing and accuracy that even the most experienced players still have problems pulling said technique off. However, new players can use this spell as a form of crowd control, as its circular pattern means that it can hit a lot of weaker enemies as well; enemies which new players tend to face.
Although Realm of the Mad God has its own problems in teaching players important game mechanics like maxing your stat, importance of pet, life-saving shortcuts and quests, it teaches the basic game mechanics very well with its decision to let new players play the wizard first, before the other classes. I believe that this is the best way to teach new players how the game works, as well as to attract the new players and make them stay.
Authors:
Yogi Udjaja
Alexander Edwin