Peluncuran Program Baru Data Science – School of Computer Science.
Pada tanggal 1 Agustus 2020, BINUS University meluncurkan program baru Data Science yang berada di bawah School of Computer Science. Program ini di pimpin oleh Bp Alexander Agung Santoso Gunawan. Program Data Science ini akan mempelajari bagaimana kumpulan data dimanfaatkan dalam proses bisnis, ilmu statistika dan machine learning.
Mata kuliah yang akan dipelajari dalam Data Science ini beberapa diantara nya adalah Algoritma Bahasa C, Data Structures, dan Statistika serta masih banyak mata kuliah lain yang mendukung pembelajaran program Data Science ini.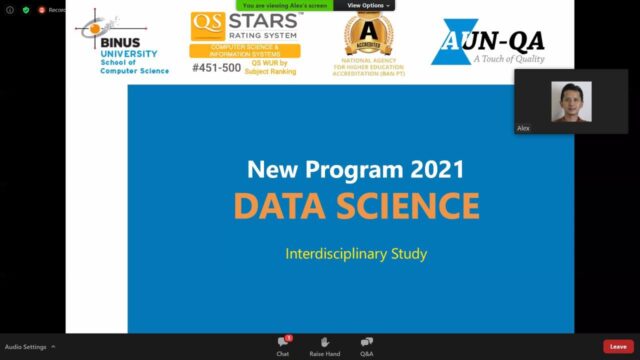 Tidak hanya School of Computer Science yang membuka program baru, tetapi School of Information System juga membuka program baru yaitu Business Analytics.
Semoga dengan dibuka nya program Data Science di bawah School of Computer Science ini dapat menambah wawasan mengenai data science serta menghasilkan lulusan yang ahli dalam bidang pengolahan data.