Administrative Active Directory
Organizational unit (OU) adalah wadah dalam domain Microsoft Active Directory domain  yang dapat menampung pengguna, grup, dan komputer. Ini adalah unit terkecil di mana administrator dapat menetapkan pengaturan Group Policy atau izin akun.
Organizational unit dapat memiliki beberapa OU di dalamnya, tetapi semua atribut dalam OU harus memiliki nama dan kode yang unik. Organizational unit direktori aktif tidak dapat berisi objek dari domain lain.
Directory OU adalah unit administratif sederhana dalam domain tempat administrator dapat menautkan objek Kebijakan Grup dan memberikan izin kepada pengguna lain
Organizational Unit memiliki jenis objek Active Directory :
Users
Groups
Computers
Shared Folder objects
Contacts
Printers
InetOrgPerson objects
Microsoft Message Queuing (MSMQ) Queue aliases
Other OUs
Untuk membuat Unit Organisasi Direktori Aktif, akun Anda harus memiliki hak Admin Domain, atau harus didelegasikan izin untuk membuat OU baru (di seluruh domain atau dalam wadah tertentu).
Buka snap-in Pengguna dan Komputer Direktori Aktif dan pilih wadah domain tempat Anda ingin membuat OU baru (kami akan membuat OU baru di root domain).
Tujuan dari OUs :
Untuk mengatur objek dalam Active Directory.
OU tidak menggantikan izin pengguna dan grup standar.
Praktik umum yang baik adalah untuk menetapkan pengguna ke grup dan kemudian menempatkan grup dalam OU
Secara default, setiap Unit Organisasi yang dibuat dilindungi dari penghapusan tidak disengaja. Jika Anda membuka properti OU yang dibuat, Anda akan melihat bahwa opsi Lindungi objek dari penghapusan tidak disengaja diaktifkan pada tab Objek. Untuk menghapus OU ini, Anda perlu mengosongkan kotak centang ini. Saat Anda menghapus OU, Anda menghapus semua objek lain yang dikandungnya.
Hubungan antara User, Group, dan OUs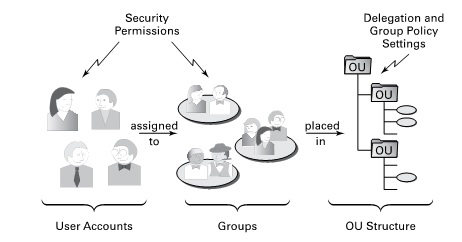 Benefit OUs :
OU adalah unit terkecil di mana Anda dapat menetapkan izin direktori.
Anda dapat dengan mudah mengubah struktur OU, dan lebih fleksibel daripada struktur domain.
Struktur OU dapat mendukung berbagai tingkatan hierarki.
Objek anak dapat mewarisi pengaturan OU.
Anda dapat mengatur pengaturan Kebijakan Grup pada OU.
Anda dapat dengan mudah mendelegasikan administrasi OU dan objek di dalamnya kepada pengguna dan grup yang sesuai.
Hal yang harus di-rencanakan dalam pembuatan OUs Structure :
Logical Grouping of Resources
Understanding OU Inheritance
Delegating Administrative Control
Applying Group Policies
Mapping a business organization to an OU structure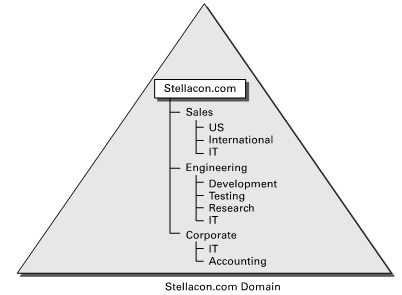 Hal yg perlu di buat dan dimanage dalam Active Directory Objects :
Active Directory Organization
Active Directory Objects
Creating Objects Using the Active Directory Users and Computers Tool
Kesimpulan :
Active Directory ditujukan untuk memudahkan operasional dan penyimpanan informasi computer, user, group, OU, ataupun policy secara terpusat. Dengan adanya administrasi menjadi terpusat maka celah keamananpun akan dapat diminimalisir.
Reference :
http://activedirectoryblogaini.blogspot.com/2017/11/pengertianfungsikelebihan-dan.html
https://theitbros.com/active-directory-organizational-unit-ou/
http://darinol.com/wp/setting-ou-groups-dan-users/
https://www.beritabebas.com/definisi/organizational-unit-ou/
http://sobarudinfile.blogspot.com/2015/04/pengertian-dan-fungsi-active-directory.html
Author : Michael Onggo Rahardjo; Patrick Adiraja; Bayu Kanigoro