Mahasiswa Computer Science Malang Juara 3 Dalam Kompetisi MSC (Management Startup Challenge) 2020
[Malang] Melalui tema Sociopreneur di bidang pendidikan, salah satu mahasiswa Program Studi Computer Science BINUS Malang, Edward Kristian Mangare (Binusian 2021) berhasil mendapatkan Juara 3 dalam final kompetisi MSC (Management Startup Challenge) 2020 tingkat nasional yang diselenggarakan oleh Universitas Airlangga pada tanggal 13-14 November 2020.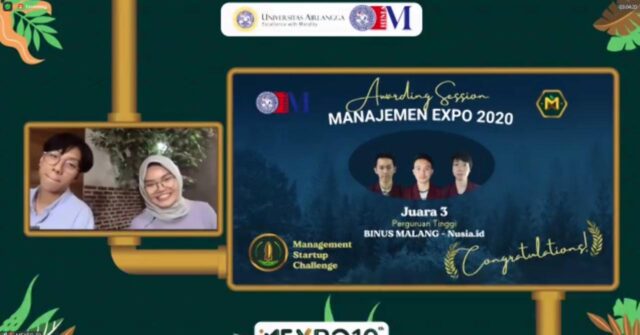 Kompetisi tersebut merupakan hasil kolaborasi Edward Kristian Mangare bersama mahasiswa dari Program Studi Business Creation dan Visual Communication Design, Stephen Dwi Kristanto dan Patrick Jonatan.
MSC merupakan kompetisi startup digital yang bertujuan untuk mewadahi dan menyulut semangat berwirausaha pada pelajar serta menjadi ajang berinovasi dan berkreasi dalam menjawab tantangan masa kini maupun masa yang akan datang. MSC sendiri mengangkat "Building a Small and Medium Enterprise based on the Ecopreneurship skill" sebagai tema besar mereka dalam kompetisi ini.
Fokus yang diambil yaitu pengembangan UMKM (Usaha Mikro Kecil Menengah) yang berbasis bisnis dengan usaha lingkungan atau kelestarian lingkungan dan ikut mendukung dan memperhatikan daya lingkungan dan berusaha memberi dampak terhadap lingkungan.