MEMORIES WITH HARVEST MOON: BACK TO NATURE
If you are familiar with game, we doubt you don't know a game called Harvest Moon. You might know one of it, but knowing all of them? Well, it's possible, but not a lot of people do. Harvest Moon Back to Nature, is one of the Harvest Moon series and can be played using PlayStation or PC.
The game is about how a city boy go to his grandfather's farm in a small town called Mineral Town. The boy must take care of his grandfather's farm because his grandfather passed away. The background story of this game isn't just that. The game will show you a flash back from when the boy was small and he visited his grandfather's farm. The boy spent his time in the farm because his grandfather was busy with work. Sometime later, the boy met a girl of similar age. They got along well and but they boy must return back to the city. Therefore, they promised that they will meet again in the future.
The game itself is rather simple. Clear the land, plow the land, spread the seeds, grow some plants, get money, get a wife. That is the game in 17 words. It sounds simple, but the truth it isn't. There are a lot of things you need to do to marry someone. Let's start with farming.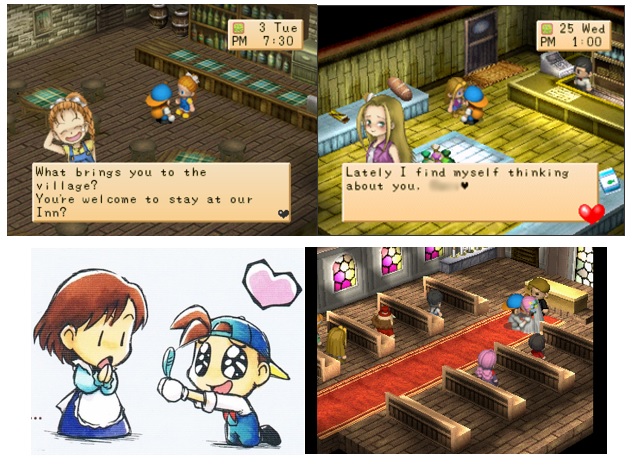 Farming requires stamina and money. Yep, you need money to farm, because you have to buy the seeds. Once you have your seeds, you need to grow it based on the season. Certain corps only grow in certain season. The game has 4 seasons. Spring, Summer, Fall and Winter. In winter, you cannot grow anything. Furthermore, getting a storm is the most frequent in this season. Getting a storm is nothing but a headache. Your farm got messed up, your corps missing, your Green House got destroyed and you can't even go out of your house.
In this game, your stamina is very limited. Signs of your stamina about to run out is that you character will fall down a couple of times before passing out. Passing out doesn't mean game over, you will only wake up in a hospital. Then what is so bad about it? Well, when you passed out, you skip the entire day and wake up a bit later than you usual waking up time, 6:00 AM. You can replenish your stamina by buying potions from the hospital.
Farming itself is not hard, you just need to plant and then harvest, simple as that. One thing that is really annoying from this game is the bag system. At first, you only have 2 slots for tools and 2 slots for items and they CAN'T stack. Nope, one slot, one item. To get more slots, you need to upgrade you bag. First upgrade will give you 2 more slots for each. The next and the last upgrade will give you 4 more slots. In total, you can only have 8 slots for each. Therefore, when you harvest you have to go back and forth from the selling bin and your corps. The only time you can stack is in your storage, just that one place.
Other than farming, you can also raise animals. You can only have cows and sheep in your barn and only chickens in your coop. The amount of these animals is also restricted and that's why you can't have 50 sheep and 50 chickens. When you raise an animal, you need to feed them, or they will die. They even got their own funeral. I'm serious. Every animal also has affection points. The higher the affection, the better their product will be. New chicken can only produce small eggs, but when you get its affection high enough, the product will become medium eggs, and so on.
Marriage. Well, since you need to find your childhood sweetheart, you have to get close to one of the girls that are available in the town. Each has their own unique personality. One of them is a bookworm, one of them is a drunkard, one of them is a nurse, and many other. Just like the animals, these girls also have affection points. You can always see how much they like you by looking at the heart at the bottom of the screen when you talk to them. The heart will always start at black and the highest at red. To increase their affection, you have to give them gifts as often as possible. However, the only gifts that count is the first gift you give them in one day. So, you can't spam gifts, nu-uh.
To marry a girl, you must have a big house, double bed and every upgrade possible in your house. After that, you have to wait until the shop has blue feather that you can buy. This blue feather is the one and only item you can use to propose a girl, don't throw it away, it's expensive.
After marrying a girl, you can actually have a child. The child CAN grow up. However, he can only grow until he is a toddler, he won't grow past that point. You can name the child too, but don't name him something ridiculous, don't be that cruel.
There are some extra feature in this game to help you reach your goal of becoming rich and have a wife and a child. First, mining. You can mine in a cave somewhere in the mountain. When you mine, you will get some ores. These ores can be used to upgrade your tools. From your starting tools, you can upgrade it to bronze, silver, gold and then mystrile. Upgrading your tools will allow you to farm faster. You can also sell those ores for extra money.
Second, fishing. You can get a fishing pole by triggering a certain event. You can sell the fish that you caught or you can keep them in the pond next to your house. But when winter comes, take them out of your pond and keep them in the fridge, because they will all die if you don't.
Third, befriending the Harvest Sprites. Harvest Sprites live in a small cottage next to the church. If you befriend them, you can ask them to help you tend your farm and animals. However, there are only 7 of them, so don't expect much, budum.
Forth, festivals. The town has a lot of festivals that you can attend. Some of these festivals is competitive, and you can actually join it. A lot of festivals have mini games. There are also animal festivals. If your animal win this festival, the winning animal will be able to produce gold product. There are also festivals where you only need to attend the festival and that's it. Also, talking to the villagers in festivals is another way to increase their villagers.
Last one, power berries. Remember how you will pass out if you run out of stamina? Well, the game present you with power berry. By eating a power berry, your max stamina will increase permanently. There are 10 power berries that you can get by doing certain things. Those berries are sometimes quite hidden around the town and mountain, so do your best finding them.
Now, you might think, "I will spend my time getting a lot of money and raising affections. Only after achieving them will I marry a girl." Well, you are not wrong, but not right either. You actually have time limit, yep. You only have 3 years. If by 3 years you don't have a wife or abandoning your farm, it's game over. This time it really is game over. So, do your best~!
Authors:
Yogi Udjaja
Livia Jesslyn Chandra