Alumni Gathering School of Computer Science 2020
Alumni Gathering SoCS 2020 yang telah diselanggarakan pada tanggal 5 Desember 2020 berjalan dengan lancar. Mengangkat tema "Sharing Gathering dan Caring", acara ini turut diramaikan secara online oleh Alumni SoCS lintas angkatan dari 26 negara yang berbeda. Adapun total Alumni SoCS sampai dengan tahun 2020 yaitu 24.341. Acara yg dipandu oleh Ibu Azani Cempaka Sari,S.Kom., M.T.I dan Bp Yohan Muliono, S.Kom., M.T.I ini dibuka dengan speech oleh Bpk. Dr. Fredy Purnomo, S.Kom., M.Kom, selaku Dean of School of Computer Science.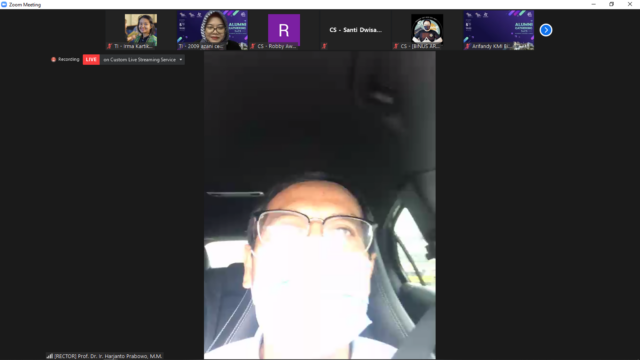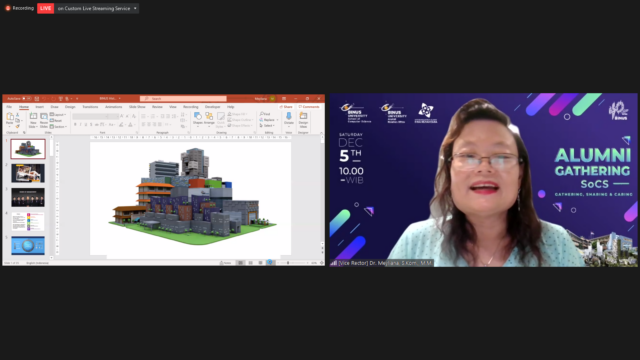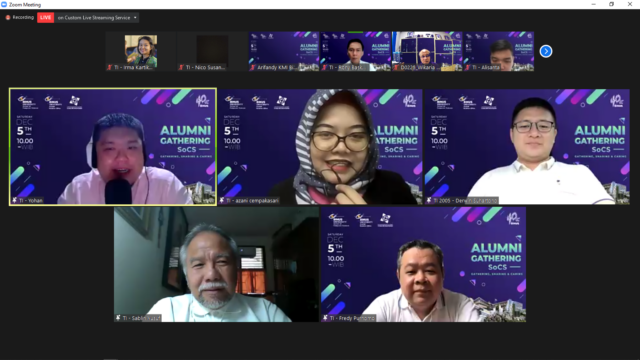 Acara berjalan dengan hikmat dan penuh kenangan, dengan adanya sesi Talk Show Perkembangan SOCS dari para Ketua Jurusan, sesi Talk Show bersama Pengurus Himti (1992 – 2019), & untuk mengobati rasa kerinduan para Alumni dibangku perkuliahan, terdapat sesi "Kuliah bersama Pak Wikaria" dengan games yang dipandu langsung oleh Pak Wikaria dan tim Dosen. Selain itu, juga terdapat Alumni Sharing Sesion dengan tema "Building Sustainable Tech Innovation", yang dibawakan oleh Bpk. Tan Wijaya, S.Kom., S.Si., MM. (President Director of PT. IBM Indonesia), Bpk.Tyovan Ari Widagdo, S.Kom. (Founder & CEO Bahaso.com), serta Bpk. Rico Harisin, S.Kom. (Head Engineer of Tokopedia).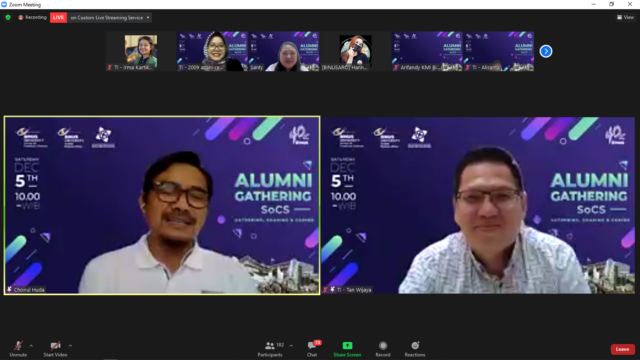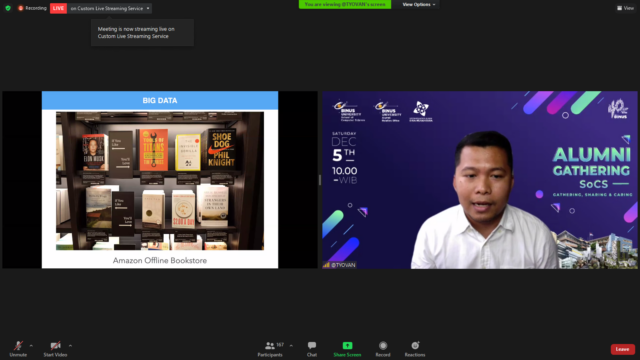 Acara ini juga semakin seru dengan adanya games dan doorprize untuk para Alumni.
Pada acara Alumni Gathering SoCS 2020 ini, hadir menyapa Bpk. Prof. Dr. Ir. Harjanto Prabowo, M.M. selaku Rektor Universitas Bina Nusantara dan Ibu Dr. Meyliana, S.Kom., M.M. Vice Rector Global Employability & Entrepreneurship untuk memberikan sambutan dan arahan terkait dengan perkembangan BINUS secara global.
Semoga dengan acara Alumni Gathering SoCS 2020 ini, menjadi gerbang dan wadah antar Alumni untuk berkomunikasi dan berkolaborasi, dimana Alumni sebagai agen perubahan dalam membina dan memberdayakan nusantara. tetap hidup dan dapat memunculkan inovasi-inovasi dan dampak positif untuk kemajuan bangsa dan negara, sekaligus mendukung terwujudnya visi BINUS 2035, yaitu "Fostering & Empowering the Society in Building and Serving the Nation".